Ahh, New York Fashion Week. What's more fun than a train ride to the city? Watching fabulous shows and presentations where we just drool and daydream about owning just one piece from each collection is! Here's a recap of some of our fun at NYFW this season…
As we said last week, Dobson Pools made the perfect backdrop for the fashion feature of our dreams! With stunning pools, fabulous sunglasses, Natori clothing, and cans of rosé being delivered to us by floating flamingos, there was nothing more we could wish for! Too many pics for last week's post, so here's a bonus, "just look at the pictures" feature. A feature we'll look back at in the winter months ahead and sigh. Farewell, summer… 😢
In collaboration with…
Julie Jacques and Dobson Pools
Hair: Byrde + the b, Washington
Clothing: Natori
Sunglasses: Pared – seriously, you need to check out their website. Aussie brand of sunglass coolness!
Flamingo handler and photog assistant: Riley Cotton
---
Pics: Lora Karam and Riley Cotton / Words: Bev
"Hey, Lora…did we die and end up in clothing heaven?"
"No, Bev…we drove to Westport and entered Fred!"
Fred is Westport's newest women's contemporary clothing boutique selling beautiful clothes and accessories to match our every fashion mood swing, PLUS, a coffee bar combined! Insert *singing angels*
In today's post, we ask store owners, Kelley Frey and Shereen Koshnoodi, a question or two about Fred while they style us in some heavenly outfits!
We first learned of the Yatra Collection when we met Gina Duckworth and fell in love with the beautiful tunic she was wearing. Lucky for us, Gina was willing to share the details on where she got it, and as it turns out, the co-owner of the Yatra Collection company lives in Washington Depot! We love it when we discover a fashion connection in our backyard!
Yatra means journey in Hindi, so, we took a yatra to Washington to meet Rati Madan at her beautiful home, and of course, try on as many pieces of the collection as we could in a couple of hours…
Olley Court, located on Main Street in Ridgefield, is one small-but-mighty, utterly sumptuous boutique! Selling home decor, clothing, jewelry, art, gifts, and interior design services – you can cancel your round-the-world trip, they've found all of the most exquisite objects from around the globe for you! We spent the morning with store owners and interior designers Susan Buzaid and Robin Curnan, discovering everything there is to know about Olley Court.
During a recent trip to the city, we decided to mix business with fashion pleasure and drop in on the Jed luxury knitwear showroom. We wanted to say hi to Jed Krascella and his team, and see what they're cooking up for fall 2017. Hint – an abundance of the finest sweaters you could ever want!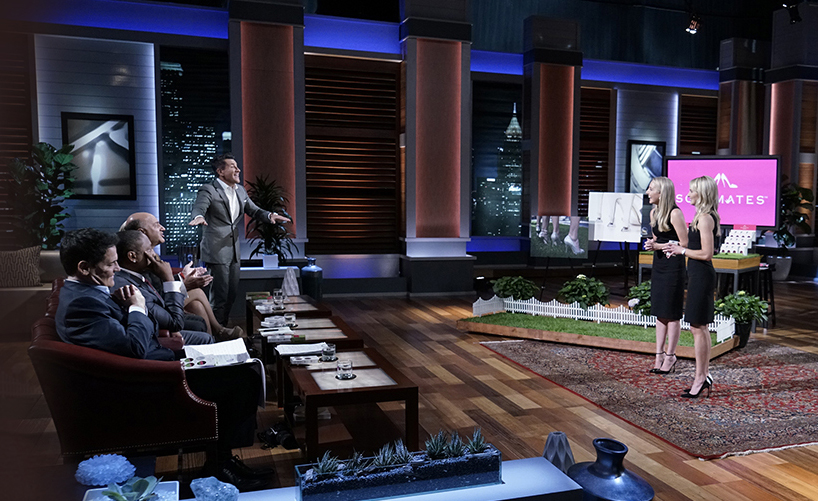 We do so love a great entrepreneurial success story. Especially when the story involves two inspiring and ingenious women and shoes. Monica Ferguson (Greenwich native) and Becca Brown are the founders of Solemates – a company that came up with a way to save our high heels!
Ever had that daydream of inventing some kind of lifehack "thing"? "I'm going to make and sell this "thing" that nobody else has thought of yet." Usually followed by, "I'll have my own company selling this "thing" and I'll be wildly successful!" Well, friends and co-founders Monica and Becca acted on that dream and started their own company, Solemates. They also charmed the judges on Shark Tank with their invention, the "High Heeler."  
Has anyone else found themselves Googling, "How can I dress like the women in "Girlfriends' Guide to Divorce"?" If you haven't been watching it, we'll fill you in. Brilliant show on Bravo about 4 fabulous women (with fabulous problems) set on the West Coast; L.A. to be exact. What they are wearing is just as important as the storylines. In other words, the most style inspiring show since Sex and the City!
We found a store in Westport that could be the GG2D's wardrobe. 
Sportsmen's in Bantam is another perfect example of why we started blogging about businesses, life, and people in Litchfield County. It's a store that we have driven by a great many times and thought, "We're not sportsmen, there can't be anything for us in there." WRONG!! We were honestly quite blown away. Apologies to those who were already in the know, but we feel like we've made a great discovery! We can't wait to share! Read on…
Workshop Inc. is another one of those really great (slightly off the beaten path) clothing boutiques that we have here in Litchfield County. You're either in the know, or you know now! This place is great! We discovered so many designers and lines that we never knew…and now love!!
We bring to you four different looks each and a Q&A with store owner Jan Nelson. Workshop Inc can be found at 10 Cobble Court, Litchfield, in perhaps the cutest cobblestone courtyard we've ever seen.