Those familiar with the luxury publication Cottages & Gardens know that the word "cottages" does not refer to a small, simple dwelling. As we found out, these are the cottages of Victorian times when a cottage was a very large home, often a second country home. Be it the Connecticut, Hamptons, New York, or San Francisco edition, Cottages & Gardens invites readers to dream big, swoon over the magnificent homes of others, get great design inspiration, and a whole lot more.
We got to spend a few hours hanging out with Editorial Director, DJ Carey at the C&G headquarters in Norwalk. We wanted to find out what it takes to be an editor of a large, glossy publication (something I think we may both secretly want to do in our next life!), and DJ was more than willing to share. She was also happy to answer our "getting to know you" questions and have a good giggle too.
Enjoy getting to know this week's #womancrush: DJ Carey!
We first learned of the Yatra Collection when we met Gina Duckworth and fell in love with the beautiful tunic she was wearing. Lucky for us, Gina was willing to share the details on where she got it, and as it turns out, the co-owner of the Yatra Collection company lives in Washington Depot! We love it when we discover a fashion connection in our backyard!
Yatra means journey in Hindi, so, we took a yatra to Washington to meet Rati Madan at her beautiful home, and of course, try on as many pieces of the collection as we could in a couple of hours…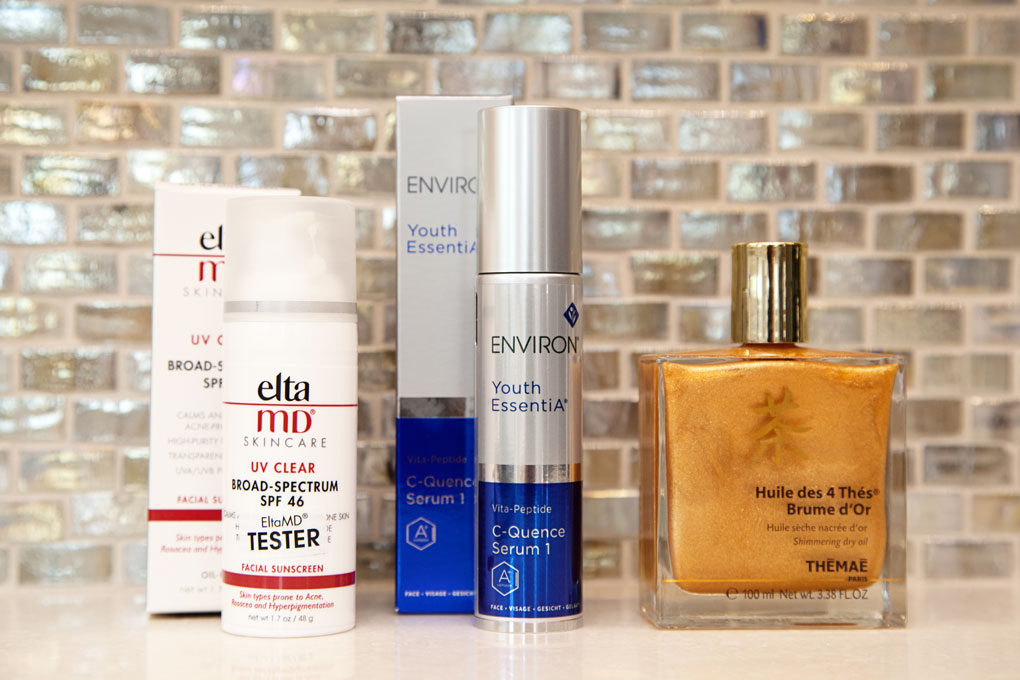 We always like to pick the brains of the experts we meet in our day-to-day blogging travels. They certainly don't seem to mind our picking and love being able to give our readers advice on topics they're passionate about! Laura Cortelyou Reidy BS, PA-C, and Master Injector from New Beauty & Wellness (Westport) shared with us 3 products that will rock your world and 5 services to book before summer really hits!
Ding, ding! Litchfield County just got really lucky! Globe-trotting, Emmy award winning stylist, Scott Bond has put down roots and opened Byrde + the b, a salon and dry bar in Washington Depot. Scott has been bopping around LA, London, and NYC for many years coloring and cutting clients hair at home, including some fabulous women such as Meredith Vieira, Kim Basinger, and Hope Davis. And now, we can all access Scott's talents at his awesome new hair studio.
We stopped by to say hi to the team and enjoy some services. Blow dry and brows for Lora, brows and a six-inch chop for Bev!
Before we dive into summer, we spa. It's time to get our entire beings ready for the next season! We visited New Beauty & Wellness, the first state-of-the-art luxury spa in Westport to experience some of their leading-edge medical services and beauty & wellness therapies. Celebrating their one year anniversary, they offer everything necessary to rejuvenate and restore. We plodded in and floated out. 
Gardening season is upon us! It's prime time to putter around in the garden, plant some vegetables, add a couple of perennials to your repertoire, or go all out and have your abode completely landscaped. Since the Green Spot opened 4 years ago we've been meaning and wanting to stop by and check out their nursery and greenhouse. We're glad we finally did; The Green Spot is not your average nursery. Pull on your Hunters and allow us to show you around…
Rejoice, it's New Milford Farmers Market season!
Farmers markets are everything. They're a place to get the freshest and most local fruit, vegetables, and flowers, as well as loads of other produce. They're a venue to hang out with your neighbors and community. A place to spot really cute dogs, to people watch, and to eat baked goods. At the farmers market, you can learn about the items you're buying straight from the experts and growers. Get cooking tips, and on this particular Saturday when we visited, pose on our red carpet in front of our Unlocking Litchfield step and repeat backdrop!
Presenting, the "Unlocking Connecticut guide to the New Milford Farmers Market"! If you're like us and like to see/read about a market before you go (preparation is everything), then you will appreciate this post. Here's a handy list of the farms/vendors you'll find at the New Milford Farmers Market every Saturday, 9-12 on the green, May – October. Happy shopping/eating!