Last month we posted a feature on "A day in Southport," situated at the very bottom of Fairfield County. Therefore, to keep things balanced, we decided to spend "A day in Sherman," at the tipety top of Fairfield County. Having been inspired by our post on Sportsmen's and feeling like an active day in nature, we decided to #getoutside.
Lora knew of a great hike in Sherman's Herrick Trail Preserve that ends with a really great view from the "Housatonic Lookout." A 1.25 mile, moderately flat trail in the snowy woods, this would classify as a "Fitness" post! Read on, as the day also consists of "Food" (Amore) because these two categories are our loves…and whaddya know, keep scrolling for a tiny shot of "Fashion" at the end, cute sweaters by Wooden Ships 😁
Post sponsored by Amore Restaurant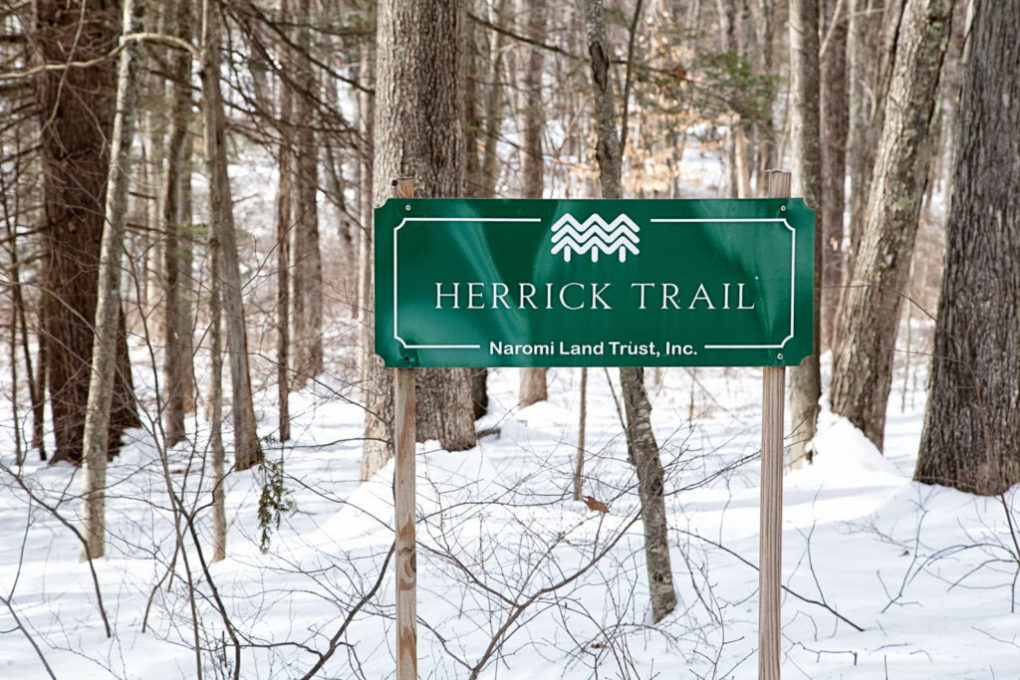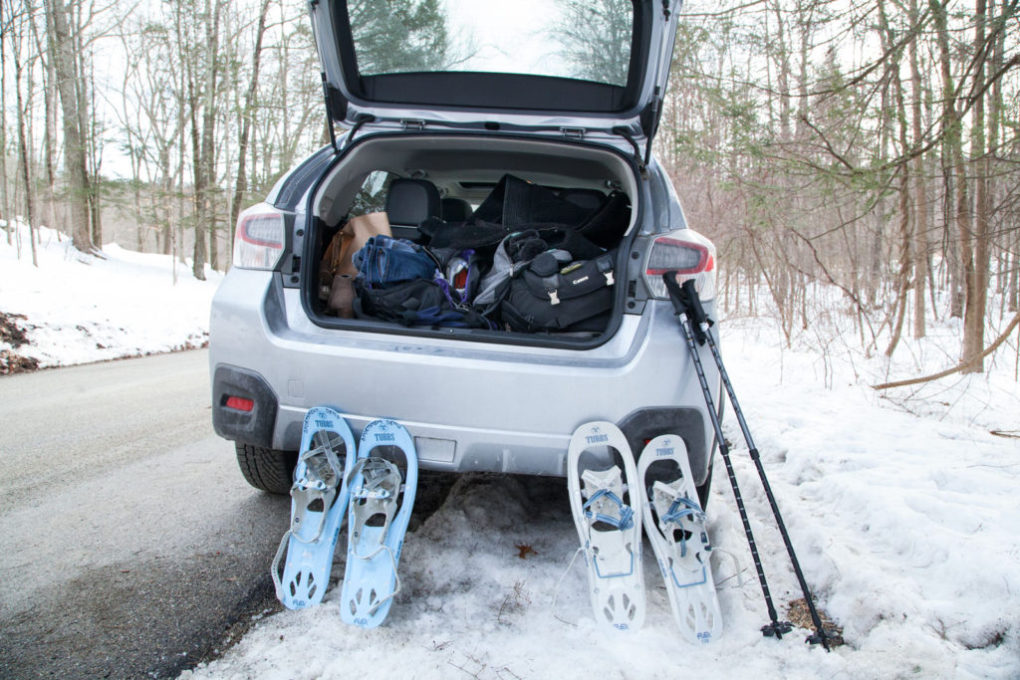 We came equipped…
When we dreamed up this feature about a month ago, we hadn't factored for snow (silly, it is February after all). No problem; we decided it was time Lora tried out snowshoeing, so we stopped in at Sportsmen's to rent some for the day! Please note the trunk of the car and see how we completely over-pack for everything we do. We are pretty much prepared for any fashion situation that may arise.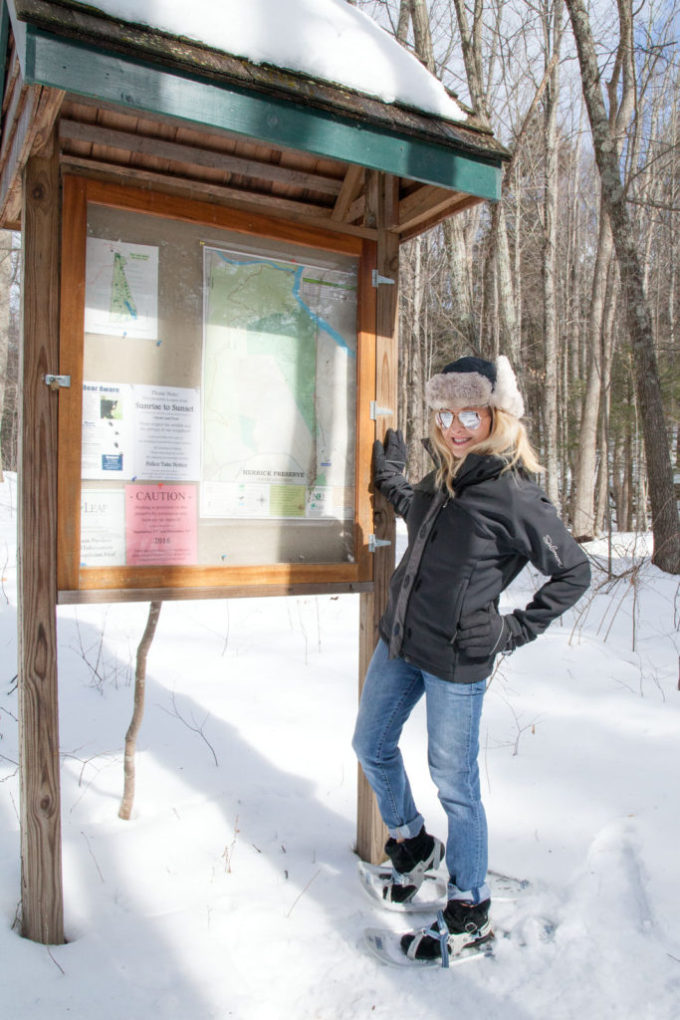 Snow bunny Lora
Pondering important things…
We could either follow the green arrows, or the 3-foot wide snow-packed trail. Pretty impossible to get lost, which is exactly the kind of hiking we like.
As it turned out, snowshoeing in snow which was about 2 weeks old with a crispy topping was really noisy! Throw into the mix ear-muffs, and walking single file…there was a lot of, "What did you say?"…and, "Oh yeah, hamstrings," when Lora was not talking about hamstrings at all. Which just meant for lots of stops, and not because we were winded. Snowshoeing is such a calorie torcher – up to 600 an hour (so we read online).
While pondering the intensity of the workout, we also pondered, and in fact Googled, "Why are our noses running so much?"…to get the answer to that question, click here.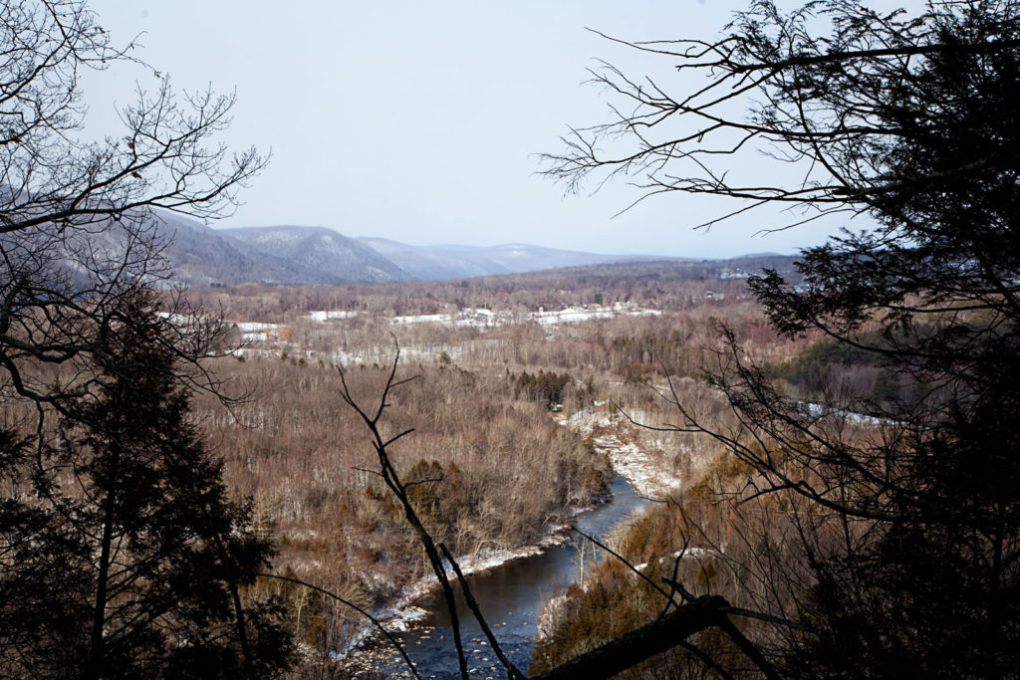 Made it!
After a spectacular moment when we startled an owl (can't imagine why, we were SO quiet) and it soared above our heads through the trees…we had another spectacular moment when we rounded the corner and there was the view! The Housatonic River with a view overlooking Litchfield County.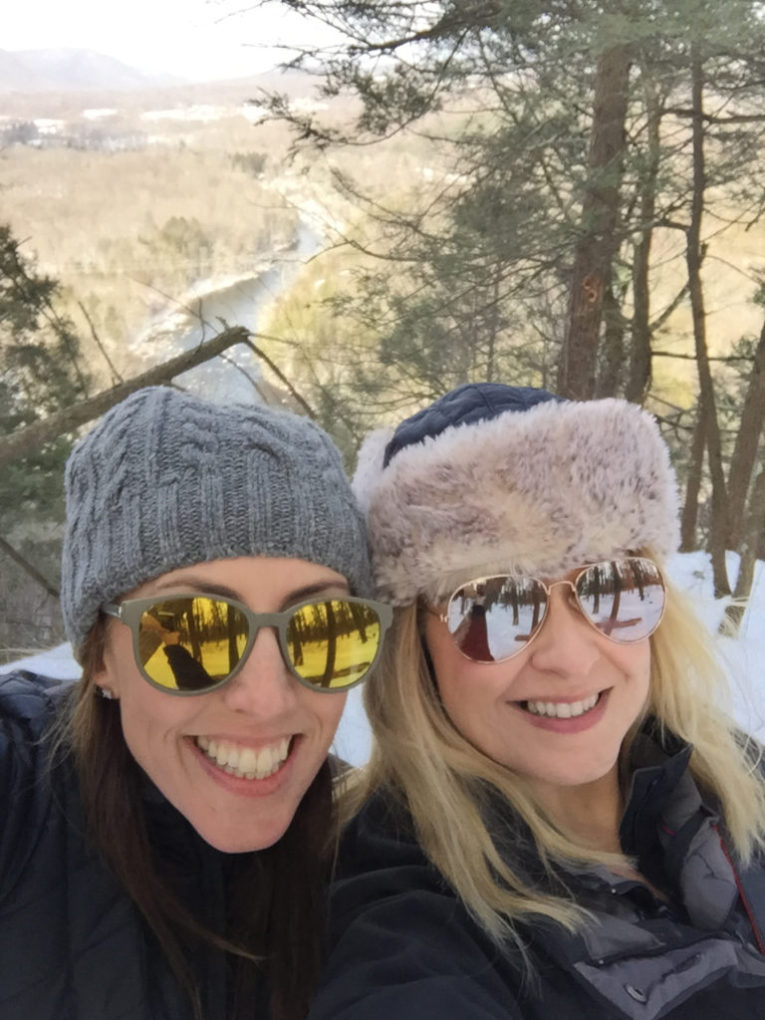 Selfie proof!
Really nice light. February light.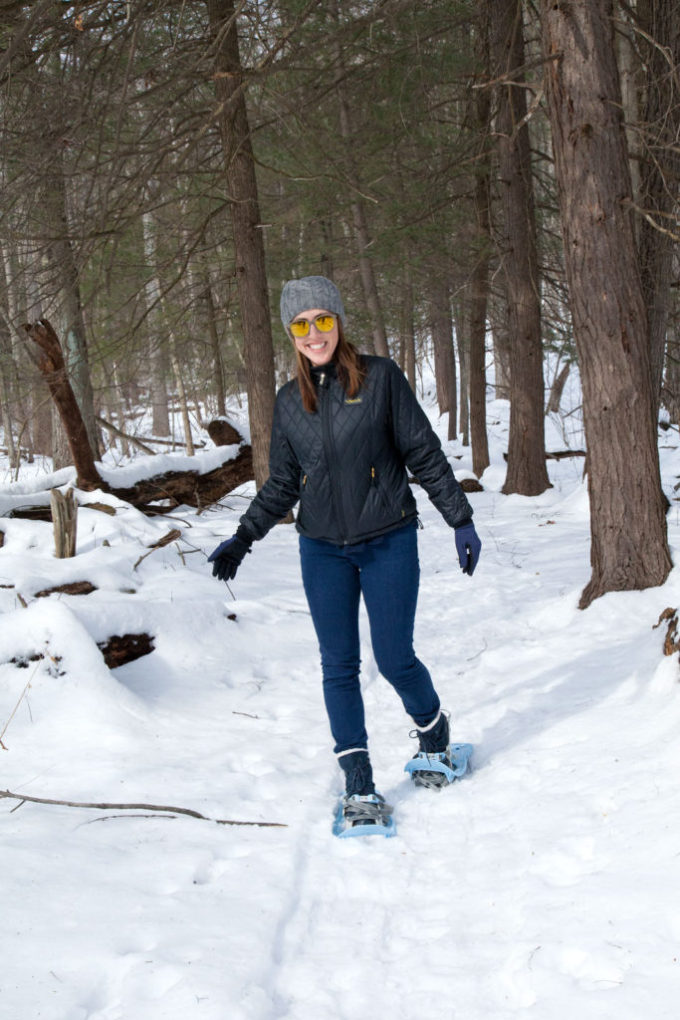 I didn't disclose to Lora that my jacket had a secret inside heating system (best idea ever)…but she caught me plugging in my battery at the beginning of the walk. Busted.
Hike success. Time to head over to Amore Ristorante, located a couple of miles away on Connecticut 37 in the heart of Sherman. 
EAT
Amore Ristorante
Ooh, what a discovery! This place made us feel like we had stepped into a favorite-of-the-locals restaurant in Italy. We were welcomed by Luisa Ragosta who owns Amore along with her husband and chef, Sergio. The couple moved back to the area with their family from Naples, Italy, having owned restaurants in Sherman and New Milford previously. In addition, the couple owns a second Amore in Mahopac. Everything about our experience was authentic and "old world" charming.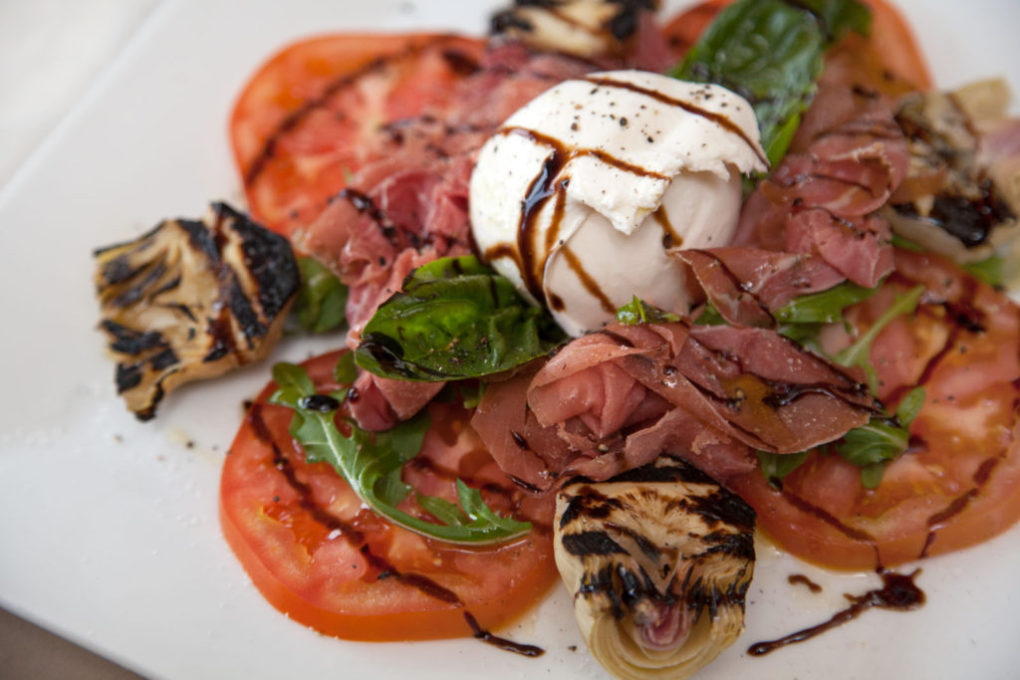 Burrata imported from Puglia served with prosciutto di parma, grilled roman artichokes, and yellow tomato.
The above, plus a lovely glass of Montepulciano…oh, and add to that warm, fresh-out-of-the-oven bread and salty butter…you want to see two happy women. We are thankful for Luisa and her husband Sergio for bringing their amazing bona fide Italian cooking to our neck of the woods. A total gem!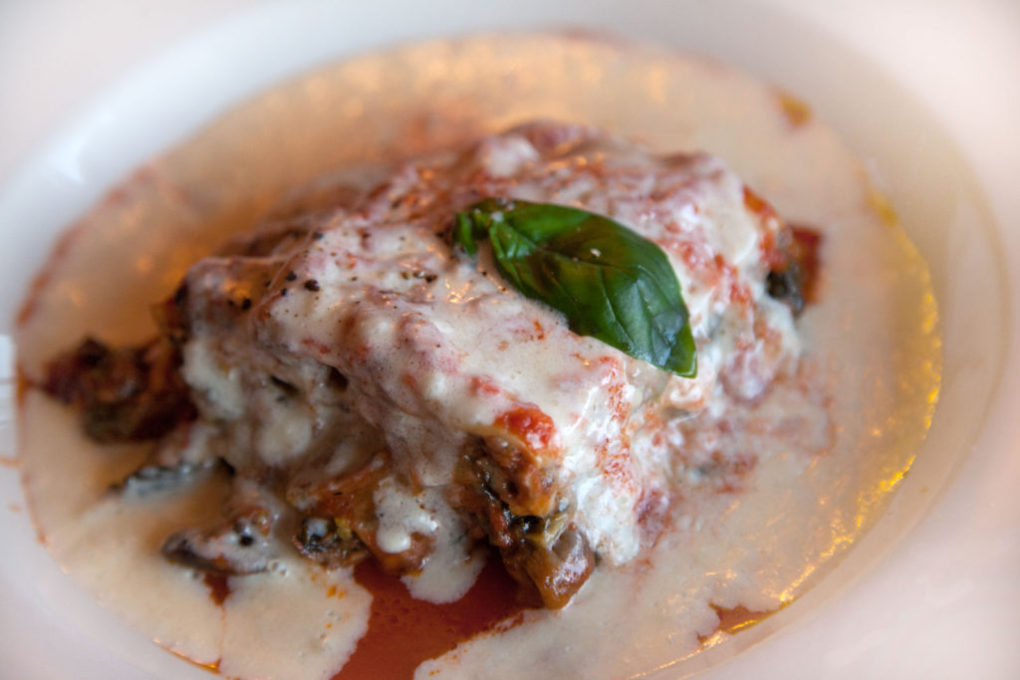 Short rib lasagna – house made lasagna filled with broccoli rabe, mozzarella, cremini, slow-cooked short rib.
A family recipe and as Luisa told us, not your average lasagna by any standard. Truth. Wow. Amazingly delish.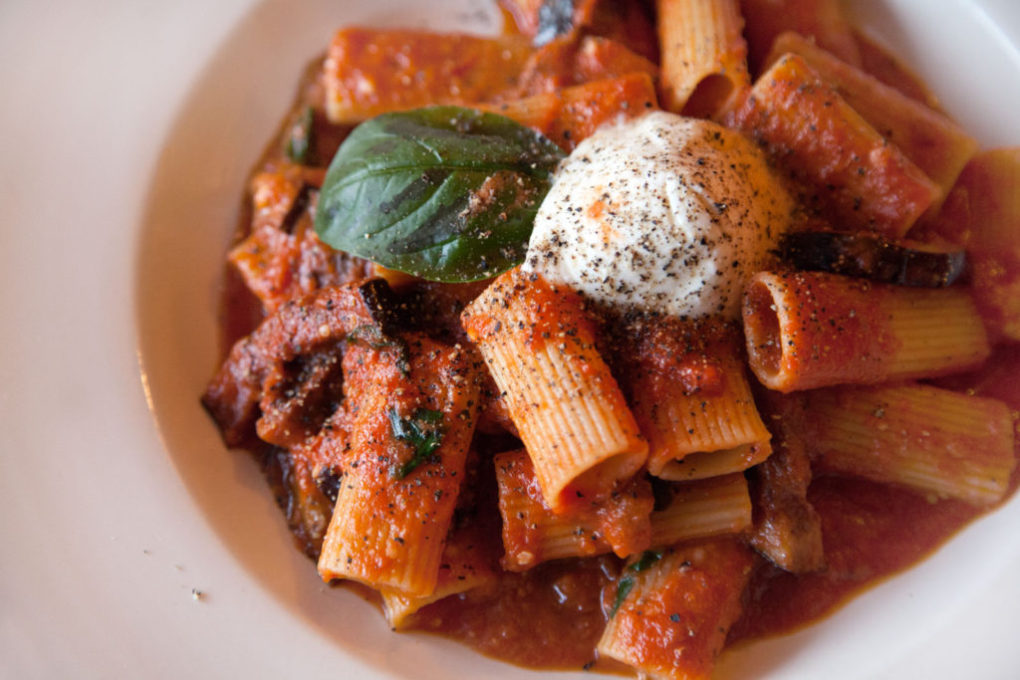 Rigatoni Siciliana – served with fried eggplant in Amore tomato sauce topped with mozzarella and basil.
A hearty noodle perfect for post-hike. The eggplant tasted as if it must surely be summer outside, even though it's the middle of February. Si. Buon Italiano!
Fashionable ending…
And because why not, here are a couple of cute Wooden Ships sweaters being worn on the streets of Sherman. #ShermanStreetStyle
Wooden Ships Ciao V-Neck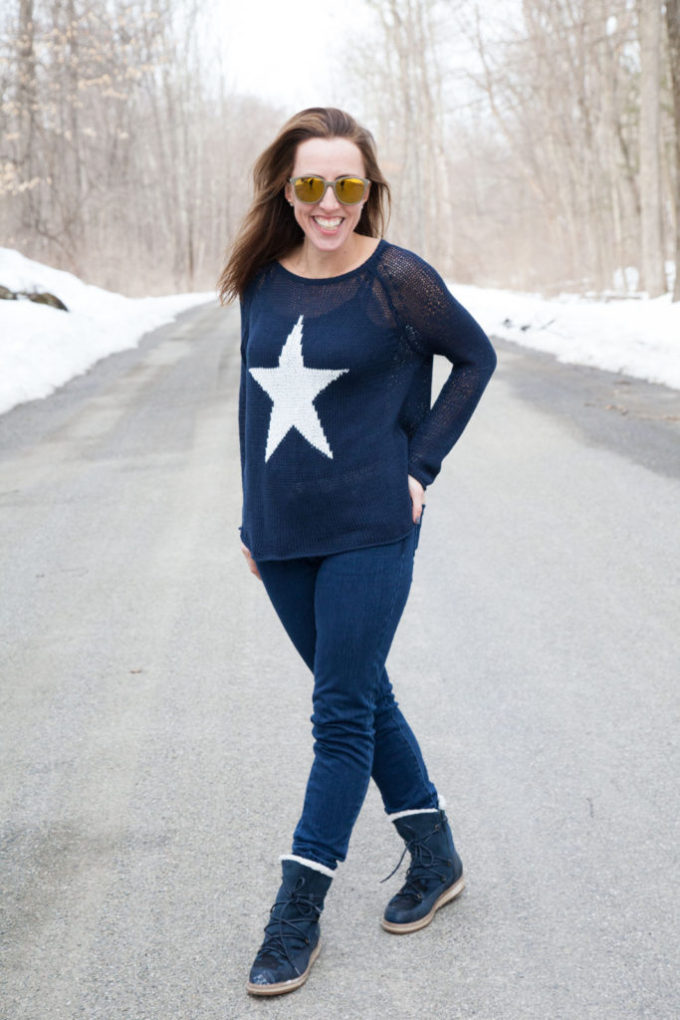 Wooden Ships Star Crewneck 
Post sponsored by Amore + Wooden Ships
---
1 Route 37 East, Sherman Commons, Sherman
860-210-1266
Words: Bev/Photos: Lora