Ahhh, Stag's Leap Wine Cellars (not to be confused with Stags' Leap Winery). For Cab lovers like me, you know this one's a winner. If you've seen the movie Bottleshock, you know the Judgment of Paris. And if you don't, Stag's Leap's 1973 Cabernet Sauvignon, the vineyard's first commercial crop, shocked the wine world when it won first place among ten top French and California red wines in a blind taste test by leading French wine experts in the Paris tasting.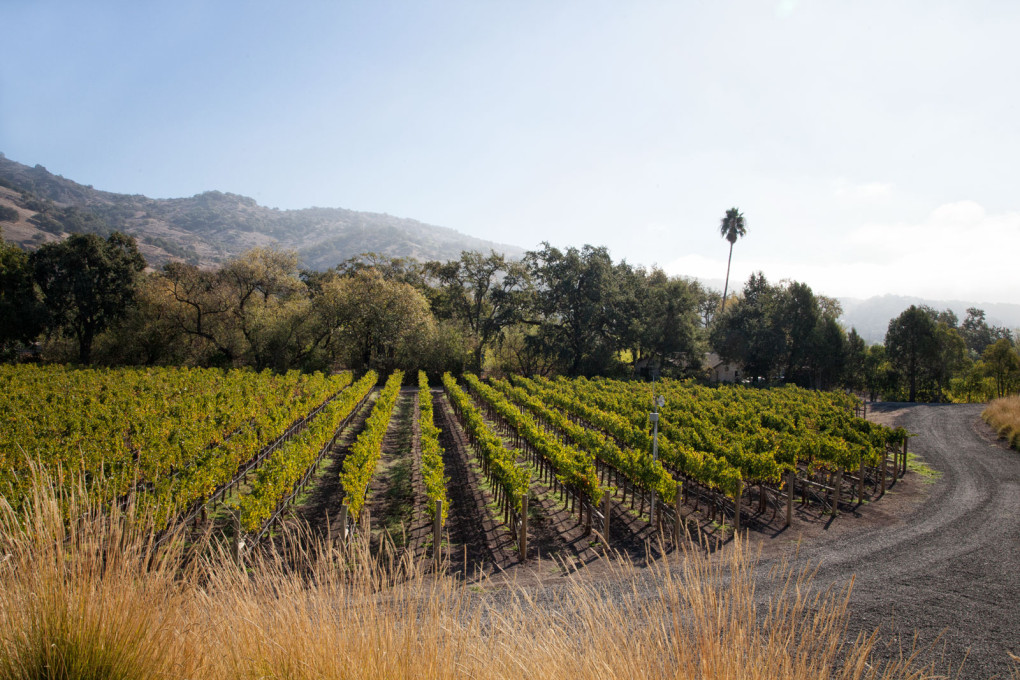 We headed to Napa for a getaway the first part of October. As it was an early harvest this year, no grapes were showing off on the vines when we arrived– but not to worry…we weren't there to see the grapes (nothing personal…). We were there to taste.
Kendra greeted us with a big smile at the entrance to the newly built (just turned 1) $7 million, 6,000 square foot visitor center that was surrounded by graceful tall grasses and sculptures (we hear a rumor that the building will be featured on the cover of an upcoming Architectural Digest). After our introductions, we headed over to the entrance of the wine caves and walked into what is known as the Great Room. Stunningly beautiful and elegantly simple, the entertaining room lights glowed from hammered copper sconces and showcased a section of raw rock left from the original blasting that created the caves.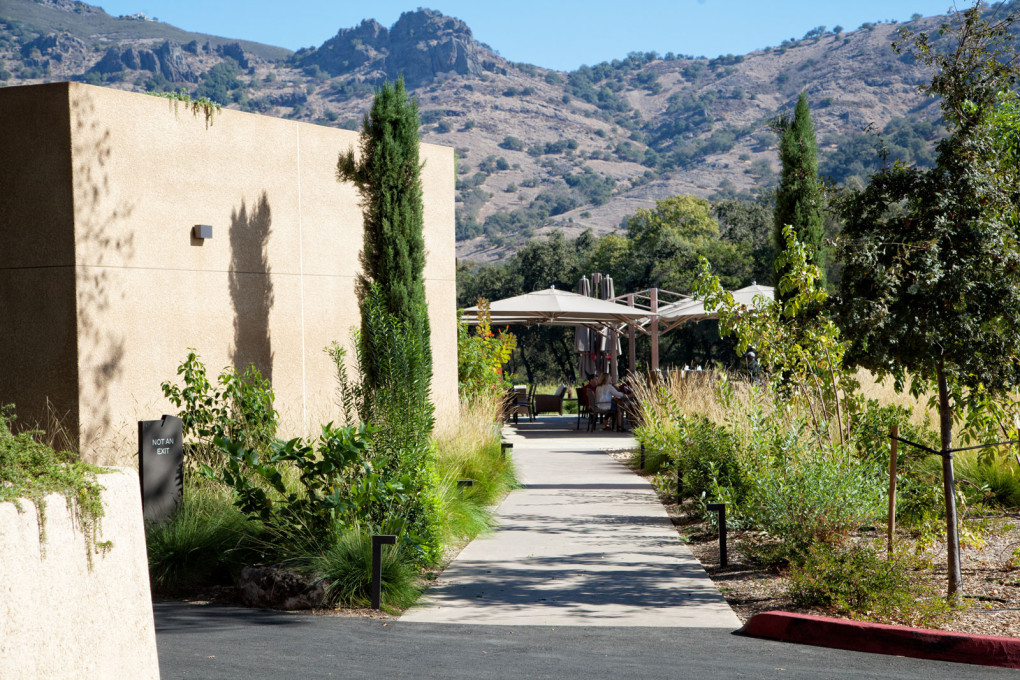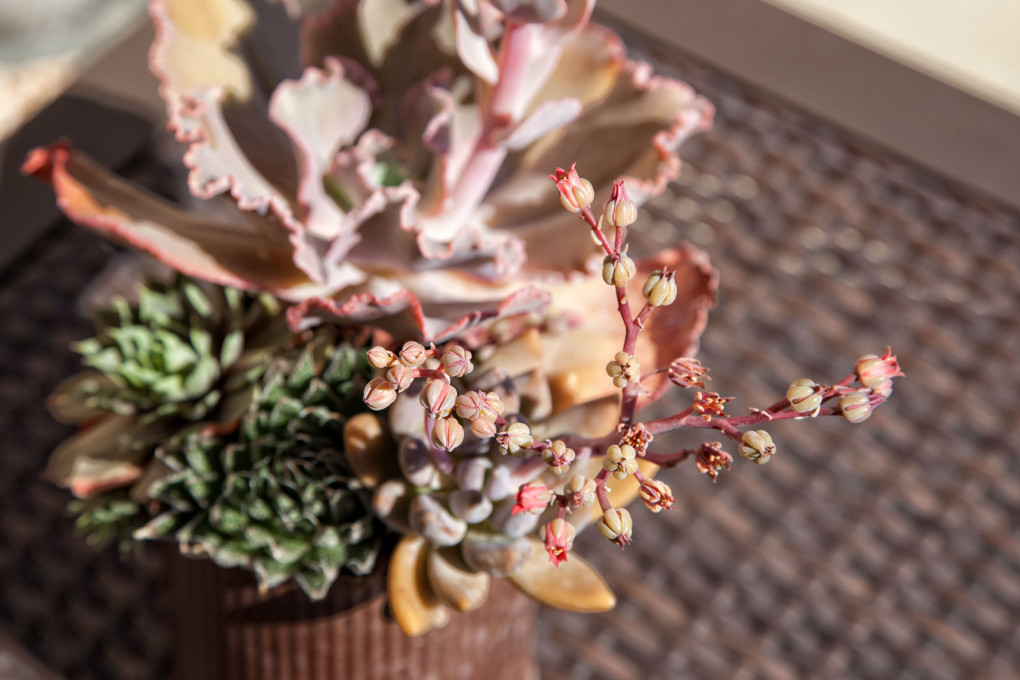 I was most impressed with the Round Room, which is at the center of the wine caves. We were told that this room is known as the "beating heart" of the cave. With a Foucault pendulum swaying-back-and-forth-back-and-forth, we listened as Kendra told us about the symbolism of the room, the pendulum (the passing of time and the aging of wine) and the caves themselves. I love a good plan with purposeful intent and meaning. Getting chilly in the 52-degree cave, we headed back out for a walk around the property…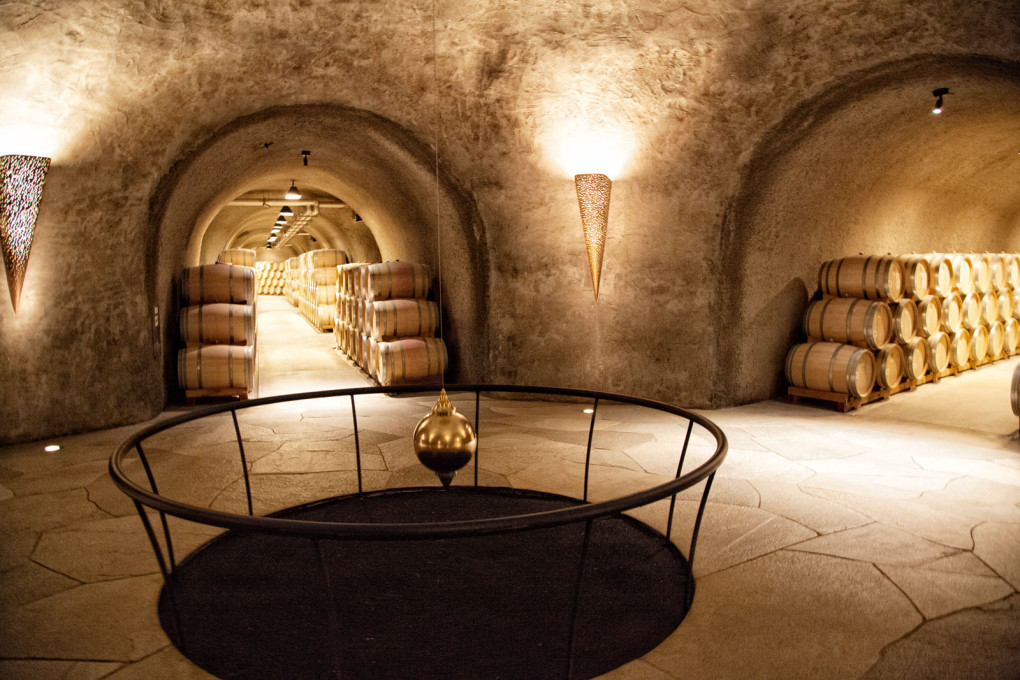 On to the VIP room which resembled a lovely conference room with large sliders opening onto a patio with cozy chairs and tables that overlooked Stag's Leap….breathtaking. Where does the Stags Leap district in Napa get its name? A rock outcropping (you can see it just above my head in the pic below) and the legend of a buck jumping through it to escape a hunter inspired the name over a century ago.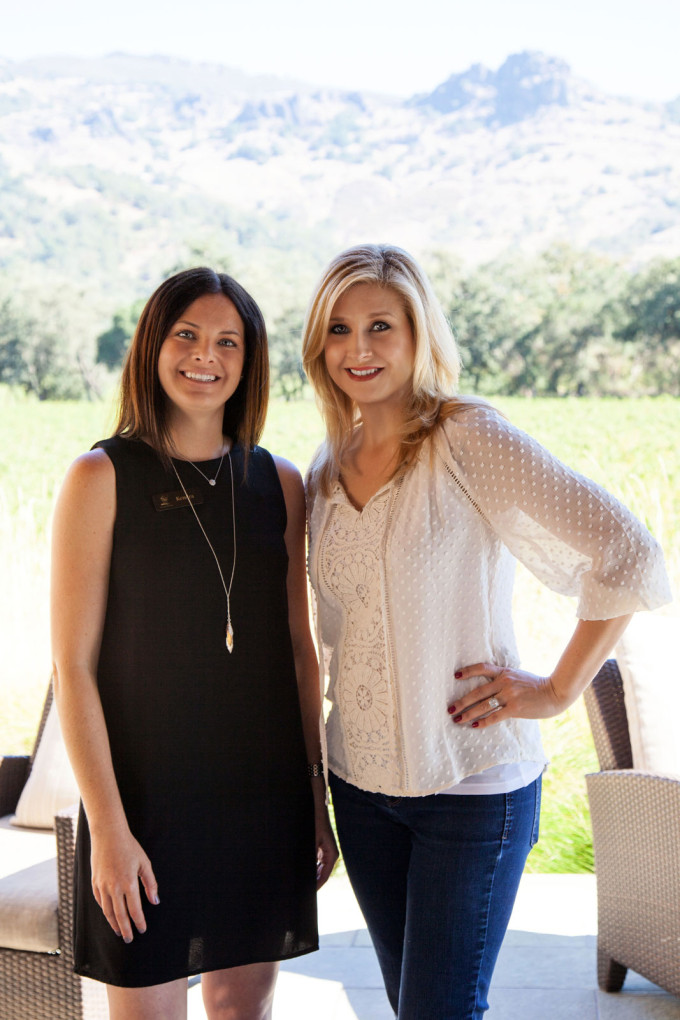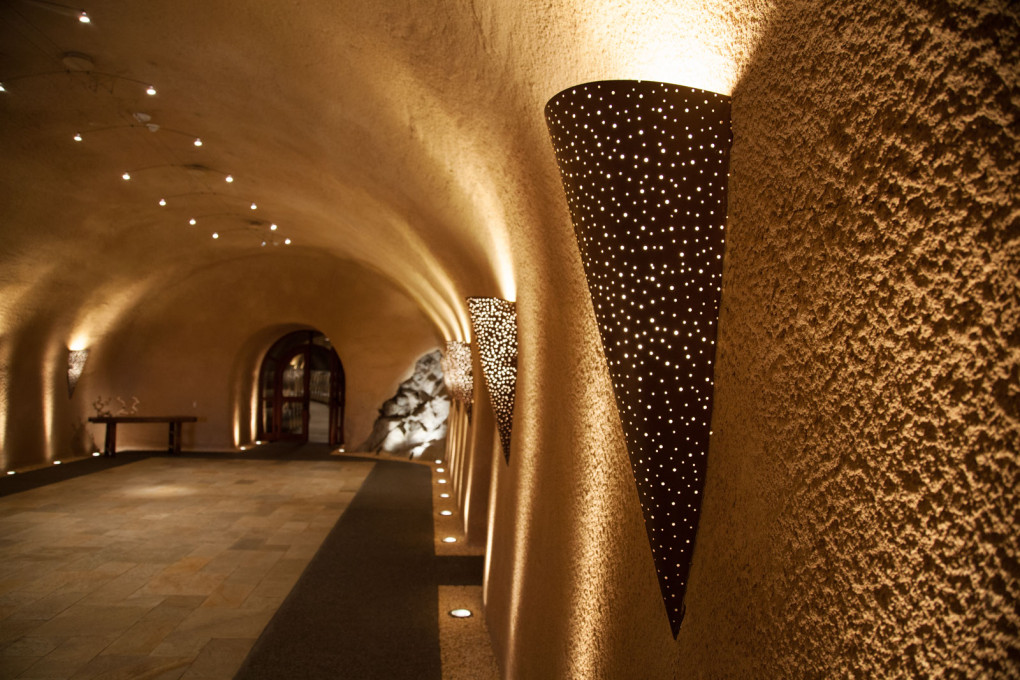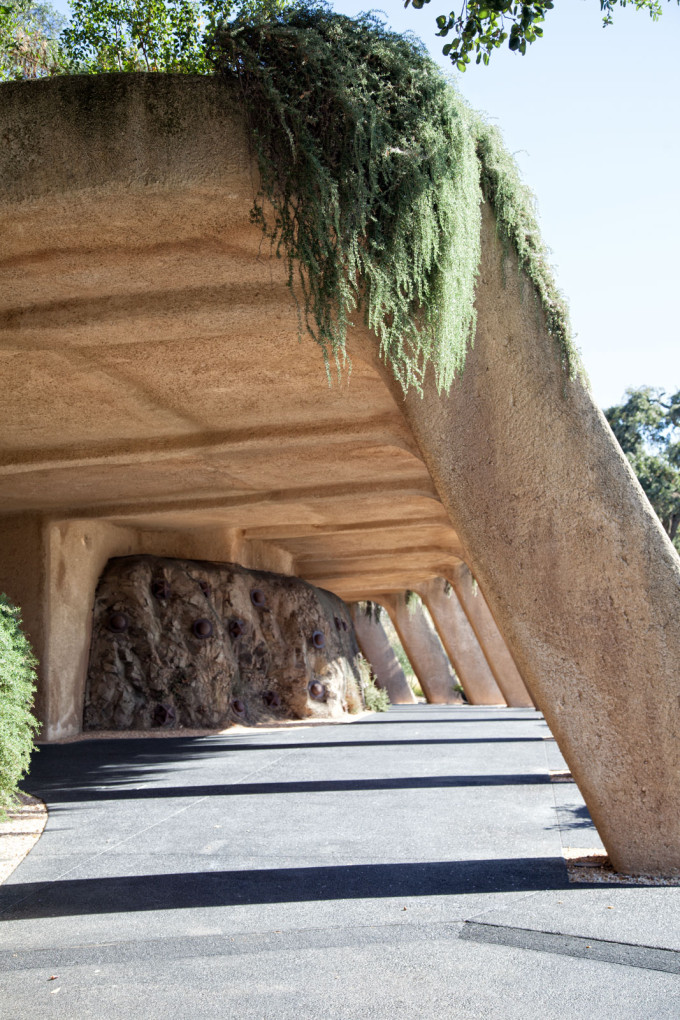 We happily sipped on 2014 Aveta (water goddess) Sauvignon Blanc, 2013 Artemis (goddess of the hunt – also their workhorse wine and oh, so good), 2012 Cask 23 Estate Cabernet (their flagship wine which contains the best of fruit from the Fay and SLV vineyards), 2012 SLV Estate Cabernet (darker, with a cocoa taste), and the 2012 Fay Estate Cabernet (super velvety).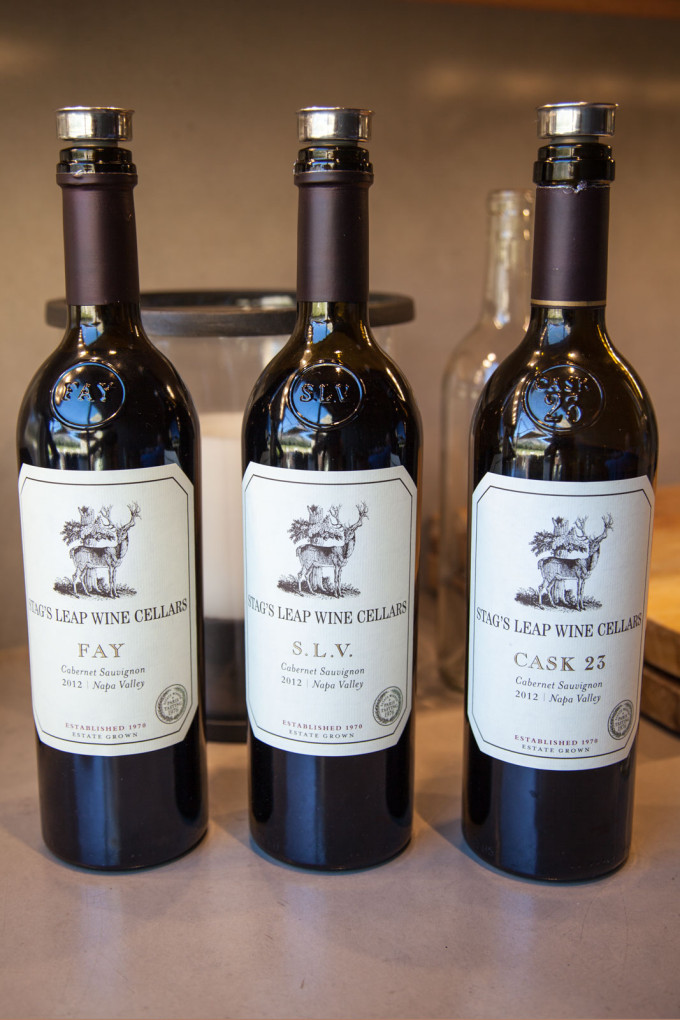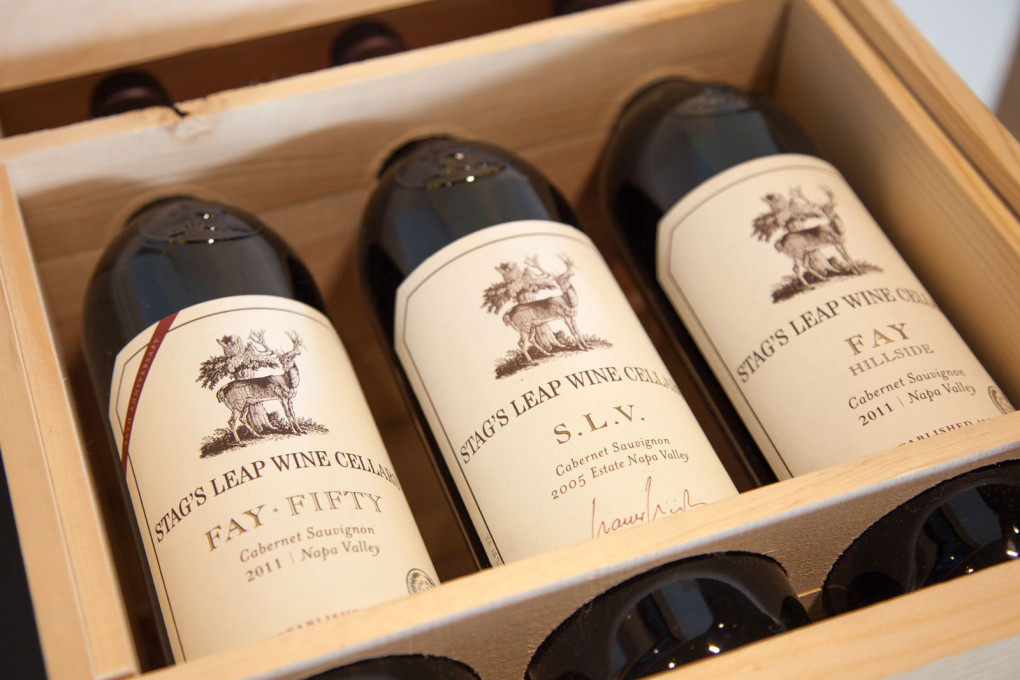 Go visit Stag's Leap Wine Cellars when you're in Napa. Cheers!
---
Visit Stag's Leap Wine Cellars website here, and their Facebook page.
5766 Silverado Trail, Napa CA 94558
Article and photos by Lora Karam