Eric and Sherry Leitz are the couple behind "Leitz" – a luxury leather accessories brand. Eric makes each item by hand whether it's a signature handbag, a monogrammed wine carrier, or a fabulous belt. Sherry manages the business and assists Eric with design. We got to hang out with them at their beautiful home in Washington, learn what goes into making one of these beauties of a handbag, and sip Aperol – our new favorite cocktail – thanks guys!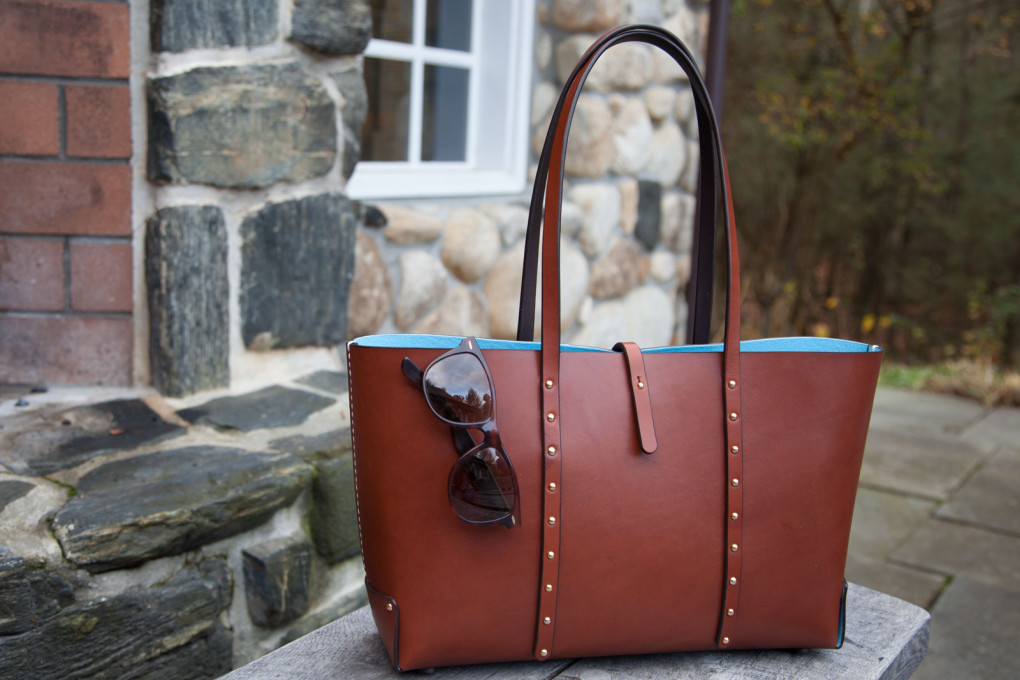 Be warned, if you buy one of these handbags, expect to be followed down the street to be asked where you got your purse. It's gotten so bad that Sherry is often asked to sell the bag she's currently sporting to a person she's just met. She's had to empty her purse a few times at various dinner parties so that the new owner may have it right away. Eric is so backlogged with requests, he tells us, he hasn't had time to make Sherry the bag of her dreams in a while (to replace the ones she's had to sell!). It's got to the point that Eric has to leave the bag unfinished until JUST before he ships it out, otherwise Sherry may just claim it for her own – tired of waiting!
The simplicity and quality of Eric's work is exquisite. What a fine leather bag should feel like, and how it should make you feel. Eric makes each bag to order; rolling grooves into the bridle leather so that the thread will lie flush, waxing each thread with beeswax to saddle stitch every seam by hand. Delicately painting the cut side of leather to match perfectly with the interior color. Studs both classic and unique. I'm in love with copper these days, but copper studs on a rich dark chocolate tote; a whole new level of copper love.
Lora and I pounced on a piece of fringed leather we saw hanging around a mannequin. We asked Eric if he's planning on making a fringed bag anytime soon, to which Sherry gave him a whack on the arm, "See?!" Sherry, often co-designing with Eric, gives direction to what makes a perfect bag. Handles are just the right length. Bags are just the right size. Color combinations make perfect sense. She's been encouraging Eric to incorporate some fringing to a new design, and we've just backed her up. That may just be the one that throws us over the edge. To heck with Christmas, we want it now!!
And now for some Q&A with Sherry…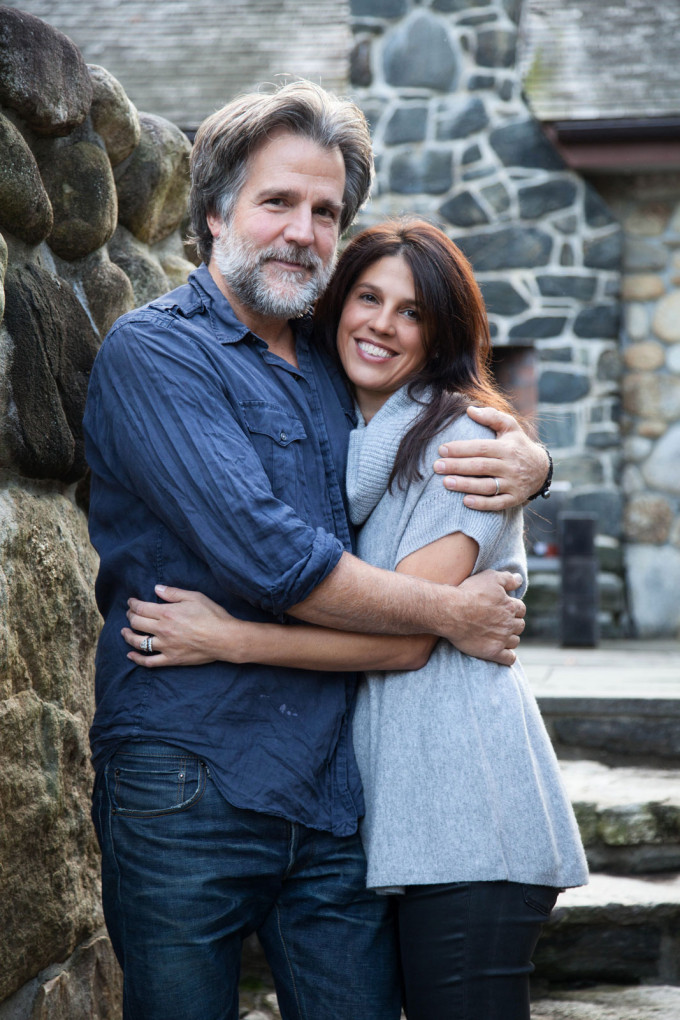 How did you and Eric meet?
We met in NYC where we were both working in the men's clothing industry. Eric graduated from FIT and started his career at Giorgio Armani moving on from there to Ralph Lauren, Oxford Clothes, and Domenico Vacca. Soon after we met in the city, we purchased a weekend home in Washington, CT.  After an exhausting daily commute to NYC, we decided to move here permanently. We had two children and wanted to spend more time with them so we began our own custom clothing company offering some of the world's finest handmade custom men's clothing made in Naples, Italy.  Making our own schedule and traveling to NYC a couple of times a week enabled Eric to have some free time to explore his true passion; making leather goods.  
Eric is a true artist at heart in everything that he does.  Some of his talents include: building a post and beam shed, patio furniture made from weather resistant white oak which was milled by himself and our son from fallen trees,  building a custom stone pizza oven in our backyard, as well as having painted every piece of artwork that hangs in our home.  
How did Eric come to making these amazing leather bags?
His passion for leather started when he was very young. Eric used to take walks with his grandfather and noticed his leather shoes made a sound from the leather soles rubbing against the sidewalk that his rubber soled sneakers did not.  He wanted a pair of leather shoes just like his grandfather's – weathered and vintage – so he too would make that sound when he walked.  Eric found a pair of shoes like his that he used to keep at his grandfather's house to wear only while walking next to him on his weekend visits.
The leathercraft began in our NYC apartment as a hobby.  Self-taught, Eric wanted to make a motorcycle seat with braided leather seams and a distressed look to it.  We had so much fun doing it that we also started making leather cuffs and belts with a vintage look that had distressed studs and buckles.
It wasn't until recently that he started working with leather again.  I set up his workshop and asked Eric to make me a leather tote for my birthday and it was so beautiful that he has been creating them ever since!  He has also developed other items such as monogrammed wine totes, weekender bags, work bags, iPad/iPhone cases, coasters, belts, bracelets, etc…
We have sold to stores in East Hampton, Bridgehampton, Sag Harbor, Los Angeles, New Jersey, Vermont, and Nantucket.
All of his work is made here in Washington, CT.
How can our readers purchase a custom Leitz bag?
Email SherryLeitz@Icloud.com
---
To contact Eric and Sherry to purchase your own Leitz bag: 917-734-5044
Article by Beverley Canepari; photos by Lora Karam.