Picture this, you're on your way to a party, only you forgot to get a present, a card, an ice cream cake and a balloon. Or, you're going fishing and forgot your night crawlers on the nightstand. How about, you're walking the Appalachian Trail and want to veer off to the nearest store, just 9/10ths of a mile away, to collect a package of clothes you shipped ahead and they are holding for you! Last one, you're out with the kids walking around beautiful downtown Kent and want a spot to get an inexpensive sandwich and shake, grabbing some free Wi-Fi while the kids amuse themselves with checkers and hopscotch! Yup, all of that and many more scenarios can be pulled off when you enter Backcountry Outfitters in Kent, CT.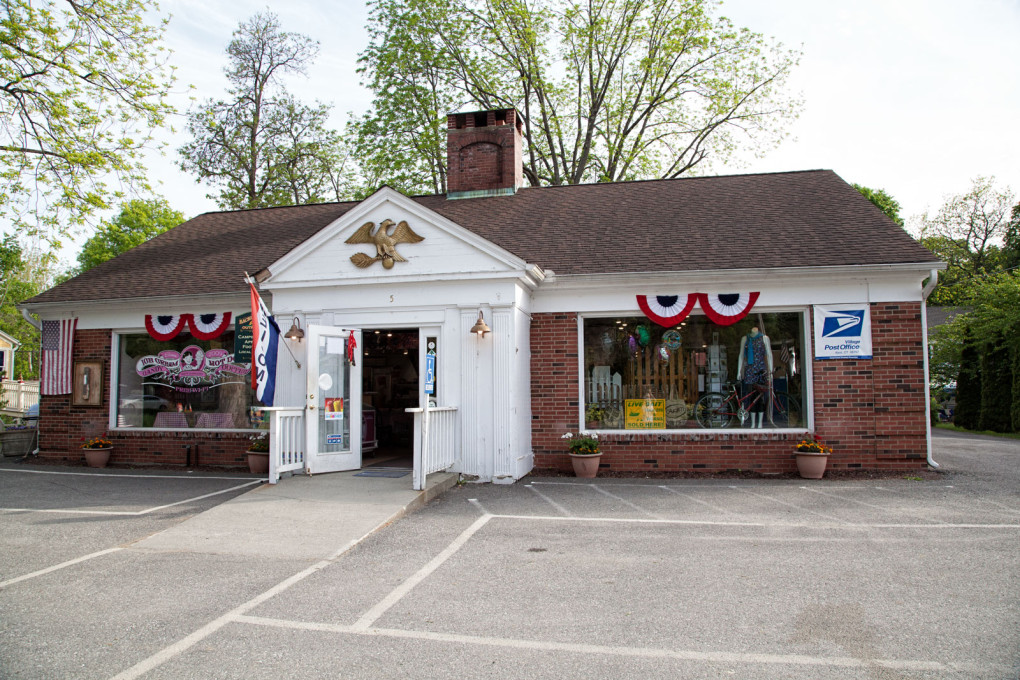 Backcountry Outfitters was established by David Fairty and Anne McAndrew in 1994. It feels like a general store of sorts, the kind of store that are now few and far between, but one that we should cherish and hold on to for all it's worth! As described above, it really is one-stop shopping for such a huge assortment of things; outdoorsy clothing, camping and fishing gear, men's and women's clothing, consignment, locally made goods, kids games, hiking books, cute jewelry (we loved the Riverstone line which is also sold in the Sundance catalog, ooh) and so much more.
David and Anne are a super warm and friendly couple and highly involved in the local community. The store feels very much like the Welcome Center to Kent! They can offer information on all the local happenings, good hikes, and area attractions. Talk to David long enough and he may even sell you a house (he's also a realtor for David Bain Real Estate). Anne often ends up giving a little TLC or first aid to hikers that come off the trail and into the store looking for assistance; she has that Florence Nightingale quality!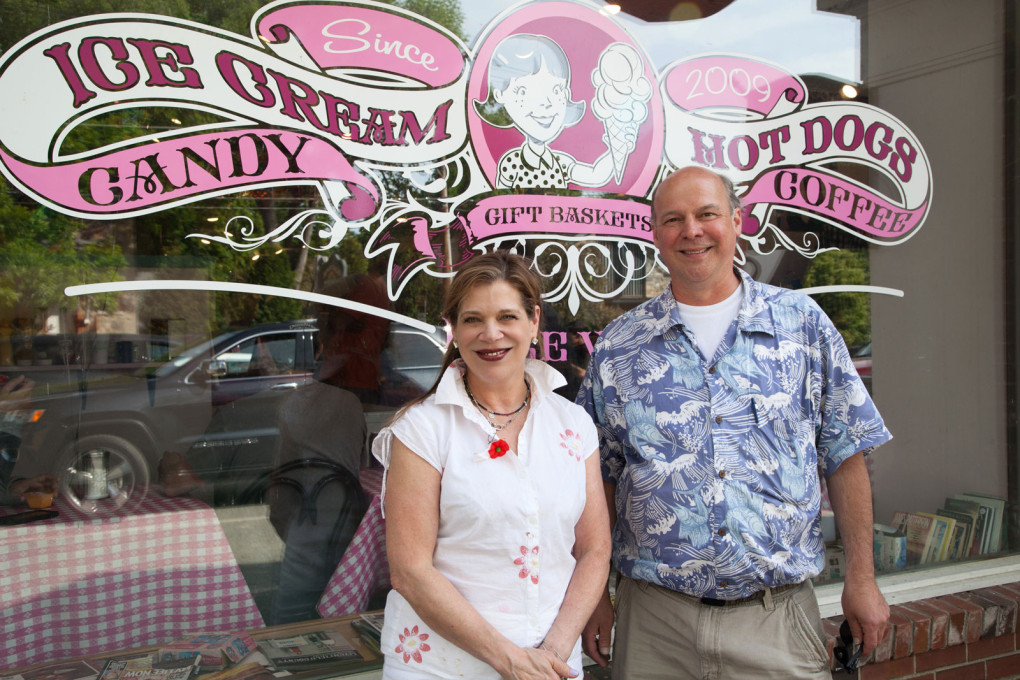 Anne opened Annie Bananie in 2009 to further add to the offerings at BCO. The first obvious question was where the name came from. Annie's dad used to call her "Annie Bananie", and if we're sharing, Bev's used to call her "Bee-bop-a-loola" and Lora was "Boo". Feel free to share your childhood nickname in the comments! We got to try our hand, or arm, at scooping ice cream at Annie Bananie's parlor. Let's just say, it's not as easy as it looks. If we worked there we'd have a really great bicep…on one arm! The ice cream is so good! It's from Jane's Ice Cream, a family run micro-creamery in Kingston, NY and we can confirm, it's seriously creamy.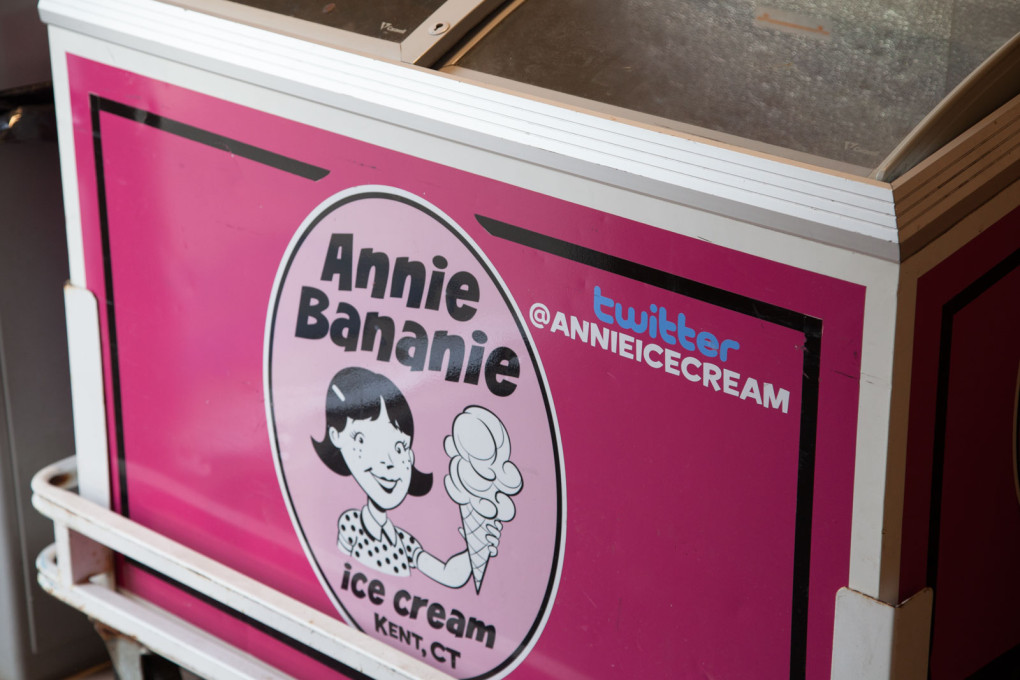 They also offer a selection of sandwiches, hot dogs, coffees, floats and more. Every weekend Anne comes up with a grilled cheese special, which Anne offered to make for us to sample. We paused for the polite 0.3 seconds before saying, "yes please"!!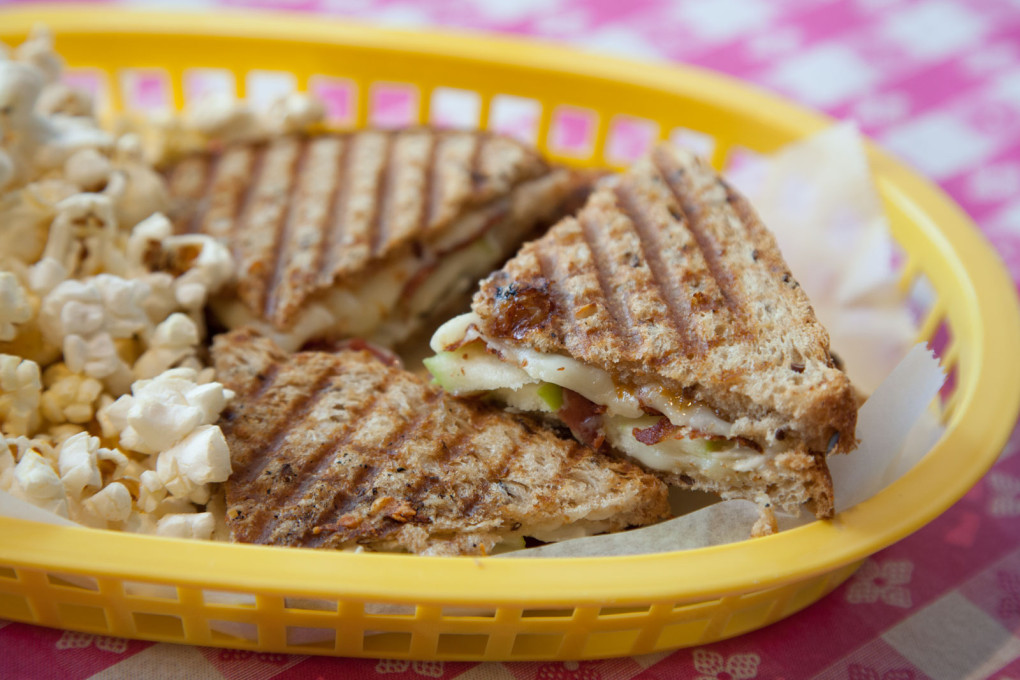 Yum-aluma, so good…mozzarella, cheddar, bacon, granny smith apple and Winding Drive apricot preserves. Anne enjoyed our sandwich enthusiasm so much that she came up with the idea of naming this coming weekend's grilled cheese the "Unlocking Litchfield". Our first named sandwich! Go try it and tell us how it is 😉
Thank you to Tim Lenz for the video and still shots of Lora & Bev!
---
Address: 5 Bridge St. Kent, CT 06757
Phone:860-927-3377
Web:www.bcoutfitters.com   www.anniebananieicecream.com
Summer Hours: (Memorial Day through Labor Day):
Open 7 days
Monday – Saturday 9:00 am – 9:00 pm
Sunday 10:00 am – 8:00 pm