Nestled in the woods of Bethlehem, on a picturesque horse farm, is the jewelry design studio of Steinen Hurtado, owner of Steinen Jewelry. We first met Steinen (pronounced stay-nin) when we were working on our Valentine's Day gift guide and not only fell in love with her work, but with her!
So while Bev is in "full-on-camp-mode" at Buck's Rock, I decided to head over to Bethlehem to catch up with Steinen and get to know her better. I also wanted to see how things were going on the custom earrings she was creating for Bev and my sister Holly, for their matrons of honor outfits for the wedding!

Post sponsored by Steinen Jewelry
At work on many custom orders…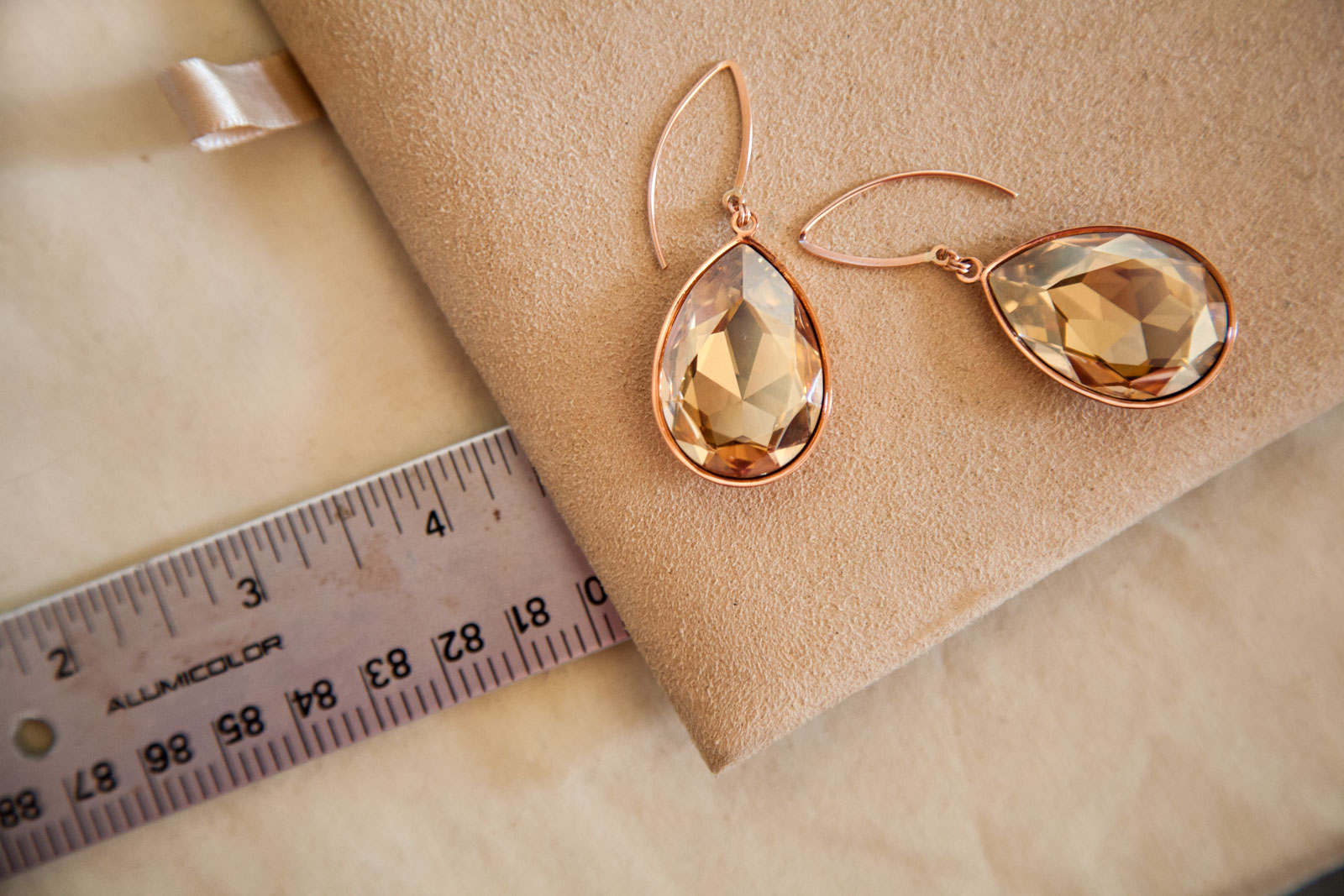 Just some gorgeous Swarovski crystals…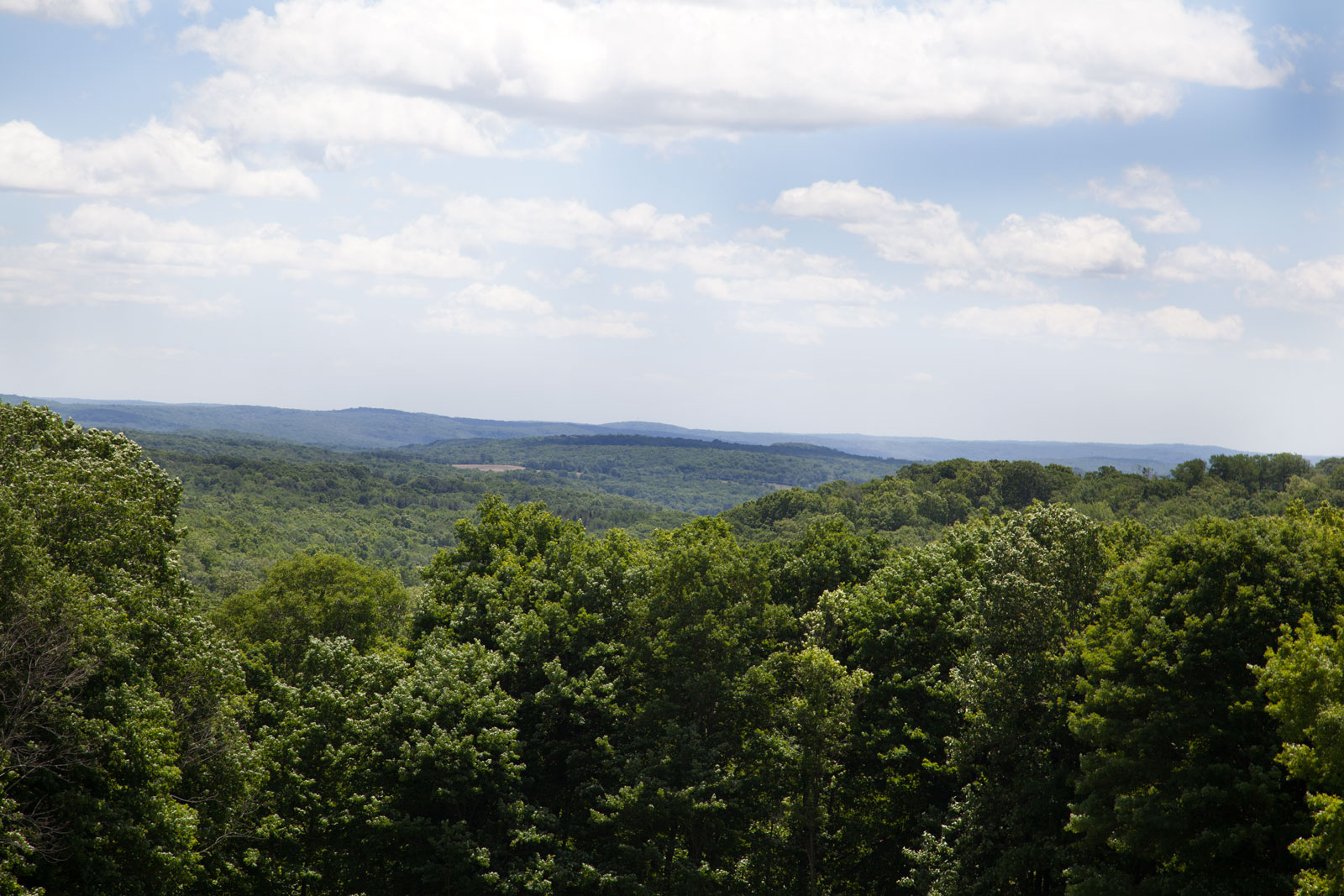 Yeah, that's the gorgeous view from her studio…
Our chat with Steinen:
You have a Master's degree in architecture…..so, why/how did you get into jewelry making?
I had a crazy idea to design and create necklaces for each of my girlfriends as graduation gifts from architecture school. Unfortunately for them, I got so caught up in ordering beads and was so inspired by the materials – mainly natural stones – that I way overspent my budget and realized that I simply couldn't afford to give my first creations away. I had learned web design during my days in corporate America, so I figured I might as well build a website and see if I could sell online. My wonderful mother also offered to host a jewelry party, then a bride-to-be ordered a set of necklaces for her bridesmaids, and before I knew it, I was in business.
I continue to be drawn more to the small, detailed scale of jewelry design rather than the large spacial thinking of architecture; however, in both endeavors it has been my love of color and natural materials that have guided me.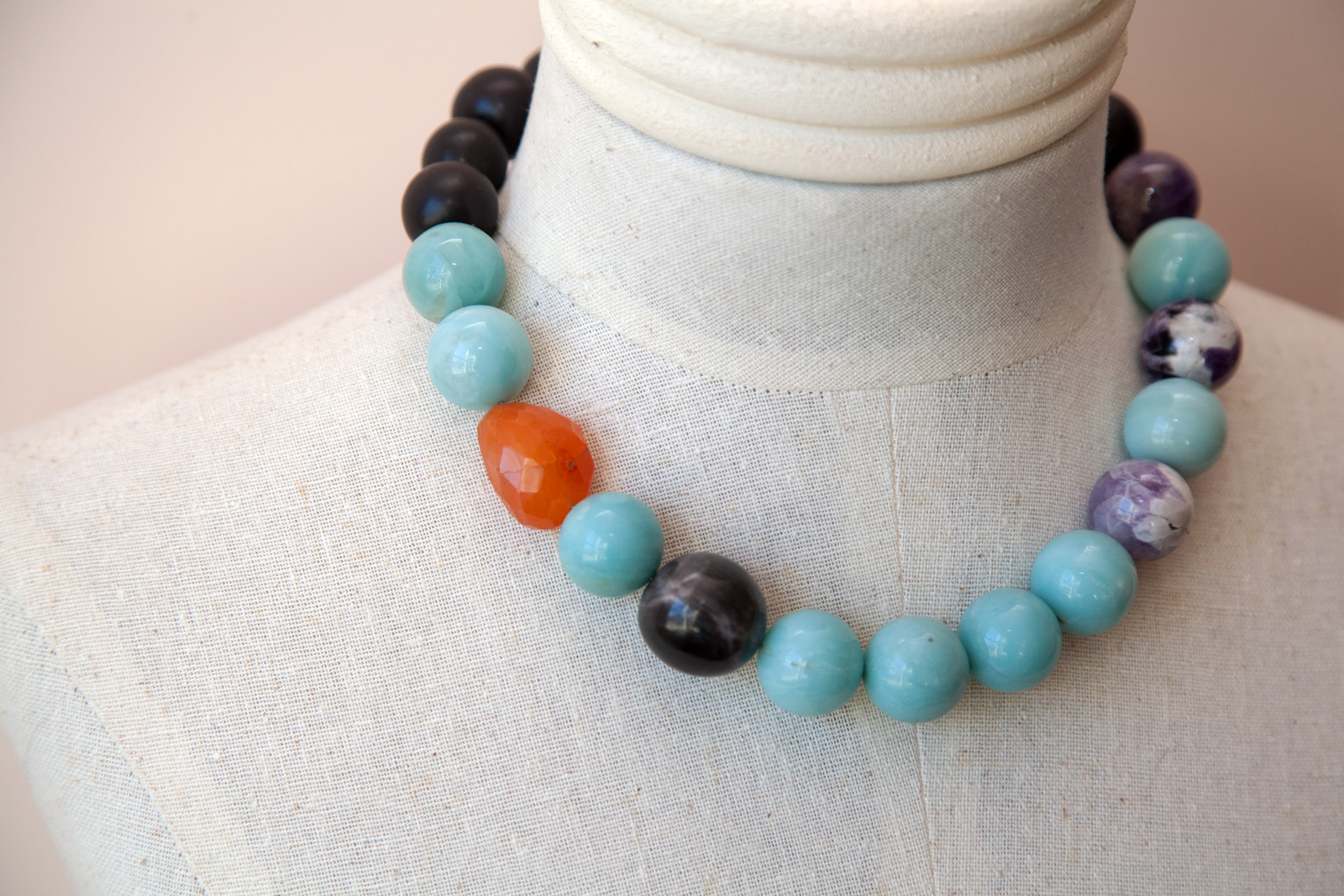 You not only have some stunning pieces on your site for sale, you also create custom jewelry. What's that process like for someone who wants to pick out certain stones for a piece?
Yes, custom orders are a large part of my business. So many women have an idea of what they need or are looking for but aren't sure who to turn to to realize their vision. Custom orders are really a joint effort – I listen carefully to my customers' wishes and preferences all through the process. Often someone needs to match a special outfit, so we start there. I ask for pictures of the client wearing the outfit then ask her if she prefers more delicate or more substantial jewelry, what colors she wears often, and if she prefers gold or silver. The length of the piece is usually determined by the neckline of the outfit.
After this initial conversation, either by email, phone, or in person, I will email the customer several options of natural stones. Once she decides upon the stones she likes then I will provide an initial design or two via sketch or Photoshop along with price ranges for both. We continue to email back and forth until the final design is agreed upon at which point I ask for a 50% deposit and get to work. Custom orders generally take 4 weeks from start to finish, so it's best to plan ahead. That said, it's always worth inquiring if you need something sooner. If my schedule is open, your order might fit right in. I won't make a promise I can't keep.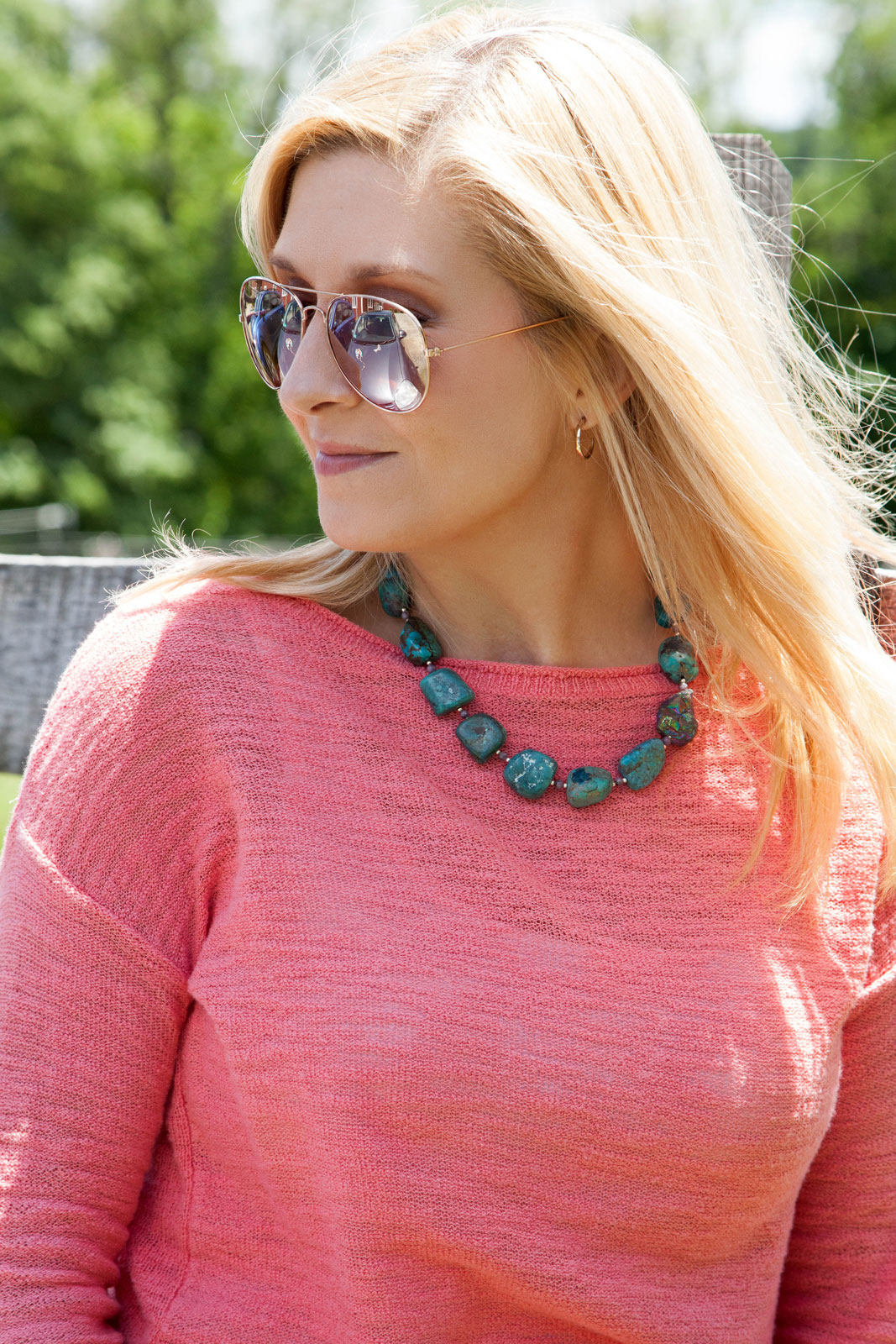 Steinen made me model…
What inspires you?
Mother Nature. Hands down. From wood grain to cloud formations, she produces the most exquisite patterns, textures, color combinations, and compositions. I am always looking to the natural world for new ideas. My background in Art History and Architecture also drive much of my design, especially when it comes to balance and proportion.
I begin my designs with an interest in one element, usually a stone or grouping of stones that I want to work with because of their inherent beauty. From there I have the intention to create a perfect, balance composition based on that initial component. I quiet my mind and let ideas arise rather than trying to conceptualize or "think of something". I am often surprised by what comes up – unique combinations of color, texture, or size. After the imagery comes into my mind, I rely on my thirteen years of experience working with the materials and my keen attention to detail to handcraft a one-of-a-kind necklace, bracelet or pair of earrings that will connect the wearer with the beauty of the natural world.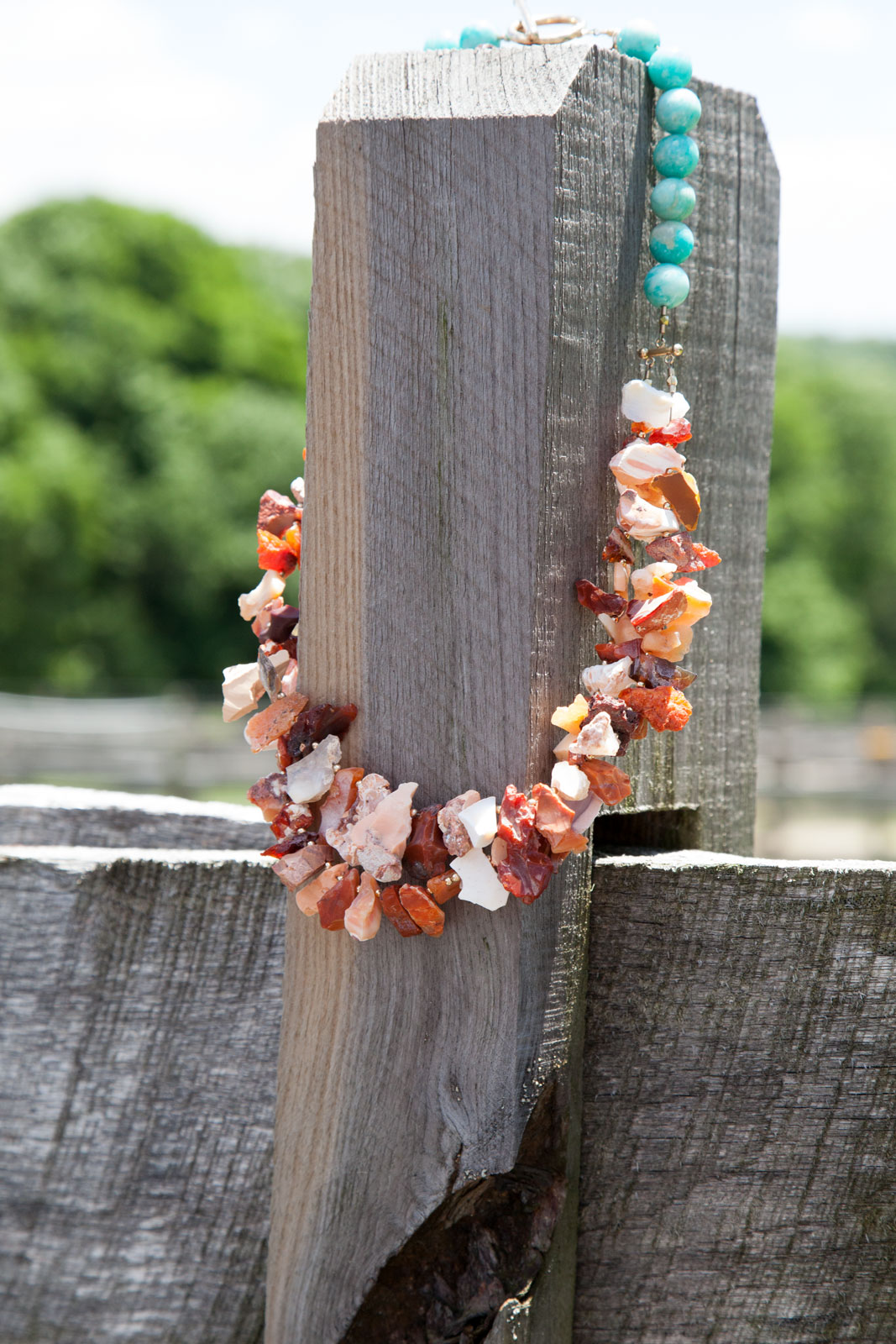 Where do you get the materials for your jewelry?
I began making jewelry when I lived in Arizona, the epicenter of stone beads in the US. Some of the best bead stores were only a few minutes down the road. Once I moved away, I had to rely on the internet and trade shows. I also head into NYC occasionally to a few trusted vendors. Otherwise I rely on a handful of online vendors whose quality I have vetted over the years. I research the materials I use thoroughly (check out my blog!) – the history and geology – so I have a good sense of what's real, what's good quality, what's rare, etc. I am ordering more and more directly from Asia where the beads are cut and drilled. Fine opals I like to order from the actual mines in Australia.
What makes Steinen jewelry different?
My jewelry comes from a quiet place where less can still be more. In that quietude there is time and space to attend to the details; finding the right length, weight, and feel to a necklace, for example. By choice, I do not produce huge quantities of jewelry, so each piece gets my undivided attention and inspiration. Each piece is the best I can create in that moment, and it is unique because that moment is not the same as the moment when I make the next piece.
Your name is cool – where does it come from?
My name is Icelandic, where it is spelled Steinunn, but my mother thought she was Americanizing it a bit by changing the spelling. Growing up she told me that it meant Rock (or Stone) God, but I've never been able to confirm that. I do know that Steinn is stone, so I believe I am fulfilling my destiny by making beautiful things with stones.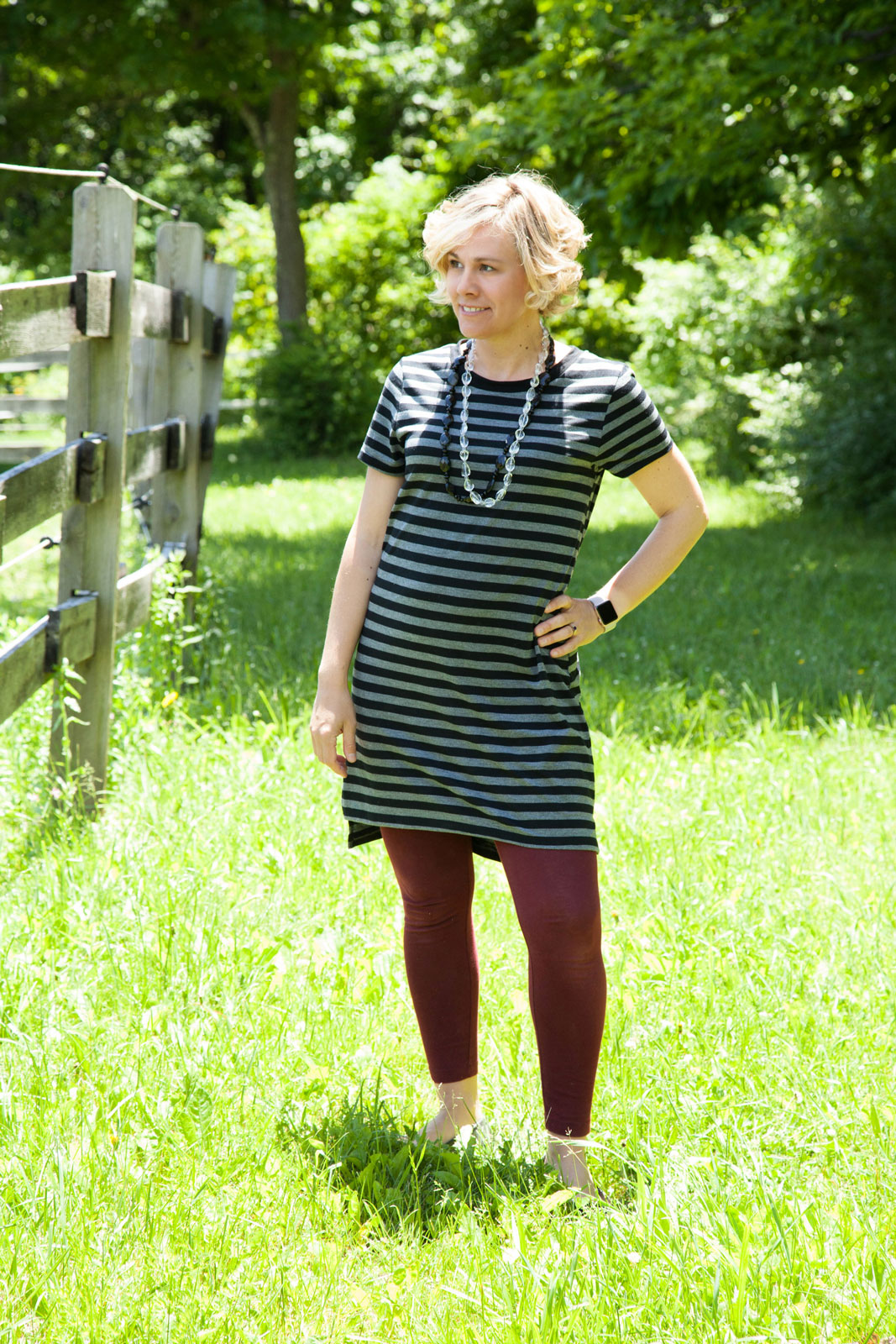 Fair is fair, so I made her model too….(those are 2 more of her designs)
What do you like to do when you're not making jewelry?
Wow, I wasn't expecting that question! Hahaha!! I have four sons, aged 3, 5, 7, and 9 who keep me very busy. For the past few years I have been organizing a forest-based homeschooling program that educates children entirely through the wonders of the natural world and the history of the Eastern Woodlands. You can read more about it at EasternWoodlandLearning.org. I am also fascinated by the weather, airplanes, and the cuttlefish, not in that order.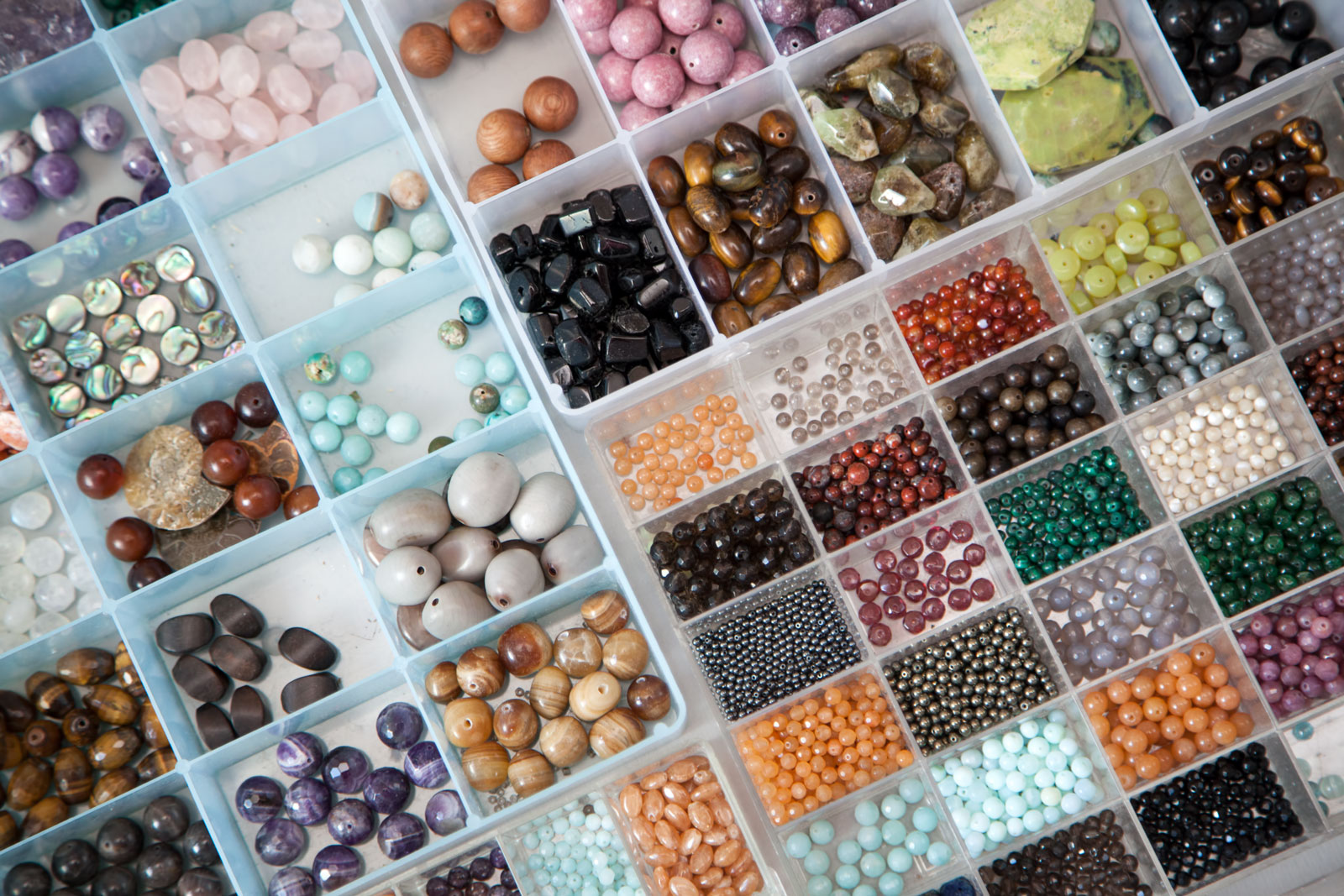 See you again soon, Steinen – and your beautiful studio!
---
Steinen Jewelry, 184 Todd Hill Rd., Bethlehem, CT 06751
Website: Steinenjewelry.com
Email: steinen@steinenjewelry.com
Words and pics by Lora Karam (except for photos of Lora..thanks, Steinen!)