And we thought we had busy schedules! When James Lenger isn't competing internationally with Team USA in pentathlons (fencing, freestyle swimming, show jumping, pistol shooting, and running…you're welcome – who can ever remember?) – he's running his multi-city, multi-country guitar instruction business, Guitar Cities! We think he might be Superman…we asked him, but he just smiled at us in a Clark Kent kind of way…
We spent an afternoon with James (or Jim) at his newest branch of Guitar Cities; Sharp and Flat Music, located in the Switch Factory building on Route 202 in Bantam. Sharp and Flat provides private guitar, bass guitar, and ukulele lessons in the Litchfield County area to all ages.
Even with our obvious lack of guitar skills, Jim had us strumming away by the end of our lesson; he's clearly very patient (evident in the video) and a natural born teacher!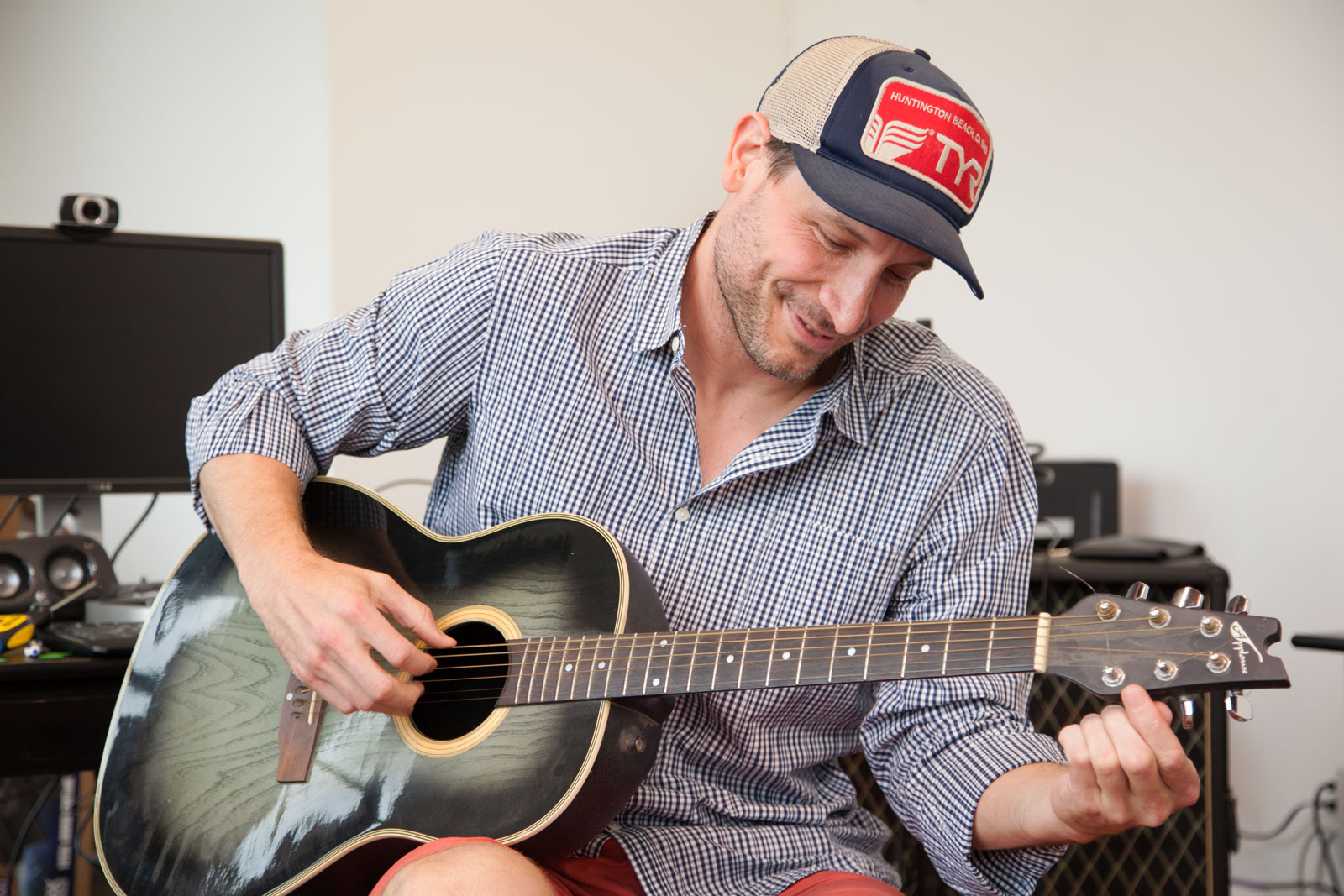 Jim tuning up my guitar that I bought 20 years ago planning on taking up lessons (which I never did). Today would be the day!
We started with the very, very basics. How to hold a guitar. Between us, we do have a little bit of instrument experience (violin, piano, recorder, clarinet) but never a guitar. Next – how to handle a pick. One hour later, 2 chords learned, and fingers fully calloused (not really, we're wimps) – we strummed Stairway to Heaven. Ok, so we strummed E minor and G, but we were impressed with ourselves!!
Think of what we could achieve in a few more lessons!
Ok, on to our question time with James Lenger the pentathlete, and James Lenger the musician.
We feel like there are two sides to you. There's guitar Jim and there's sporty Jim…
Yes, I'm like a Spice Girl!
So we're going to interview you both separately…
Ok, who's first up?
Let's talk to sporty Jim first. Ok, we know you're on Team USA…what exactly does that mean?
Four years ago I met with the Team USA coaches and they invited me to the Olympic Development Camp in Colorado Springs. After going through that – they were happy with how I performed – they gave me an open invite to train there whenever I wanted.
So you approached them, knowing that you had a good chance of making it on the pentathlon team?
I was looking for something to dedicate to my mom because she passed away in 2009 from a couple of aggressive brain tumors. So I was looking for something that I could jump into. I hadn't done any of the sports before. I'd played a number of other sports in high school and college.
I started swimming and fencing, and after about 3 months or so met a couple of the coaches and then several months later went to the development camp. That gave me some encouragement.
I kept training and kept going to the camps, and eventually got on the team.
Have most of the people on the team been doing these sports since birth? It seems like you're coming into this perhaps a little later in life than most…does this mean we could still be Olympians??
[Laughs] I think part of it, is that I come from a very athletic family. My dad was a basketball coach, my brother played basketball and tennis and a number of other sports. My uncle was a marathon runner. We're all active.
I kept progressing and then about a year and a half ago I did my first international competition with Team USA. An event called the biathle in Guatemala. It's a run, swim, run and a shoot, swim, run event.
I feel like we need a little cheat sheet of what they all are. Ok, so remind us what a pentathlon is…we'll write it down. 
So a pentathlon is a mixture of fencing, swimming, horse jumping, and then the run and shoot are combined. You have to shoot an air pistol, run 1/2 mile, shoot an air pistol, run 1/2 mile….a total of 2 miles of running.
Who comes up with this?! Is there a committee that says, "Let's make them do this, then that, then a bit of this, ha ha hah."
Well, it's designed to be this Renaissance-y kind of thing..like what would a messenger have to do behind enemy lines in the war? So it's riding a random horse, it's swimming, it's running, it's fencing, it's shooting…
Wait, a random horse?! 
Yes, you get assigned the horse 20 minutes prior to having to jump the course.
Crazy! So what's the goal for you, with all of this hard training? 
The goal would be Tokyo in 2020 to do the Olympics.
We should go! We'll come and blog about it!
Ok, I think we're ready for music Jim…tell us about your company, Guitar Cities.
I have 15 instructors in 4 different cities; Chicago, San Francisco, New York and London. We have about 600 students around the world. I love teaching. I came from a family of educators and my background was psychology, education, and music. The Guitar Cities are all in financial districts, primarily focusing on adults in the area. Giving them a break to leave work, learn an instrument, and get back to work.
With Sharp and Flat – I want to work with all ages. Kids in school who want help with a musical they're working on, adults, anyone that wants to learn. I also help people write songs. It's a way for people to express themselves.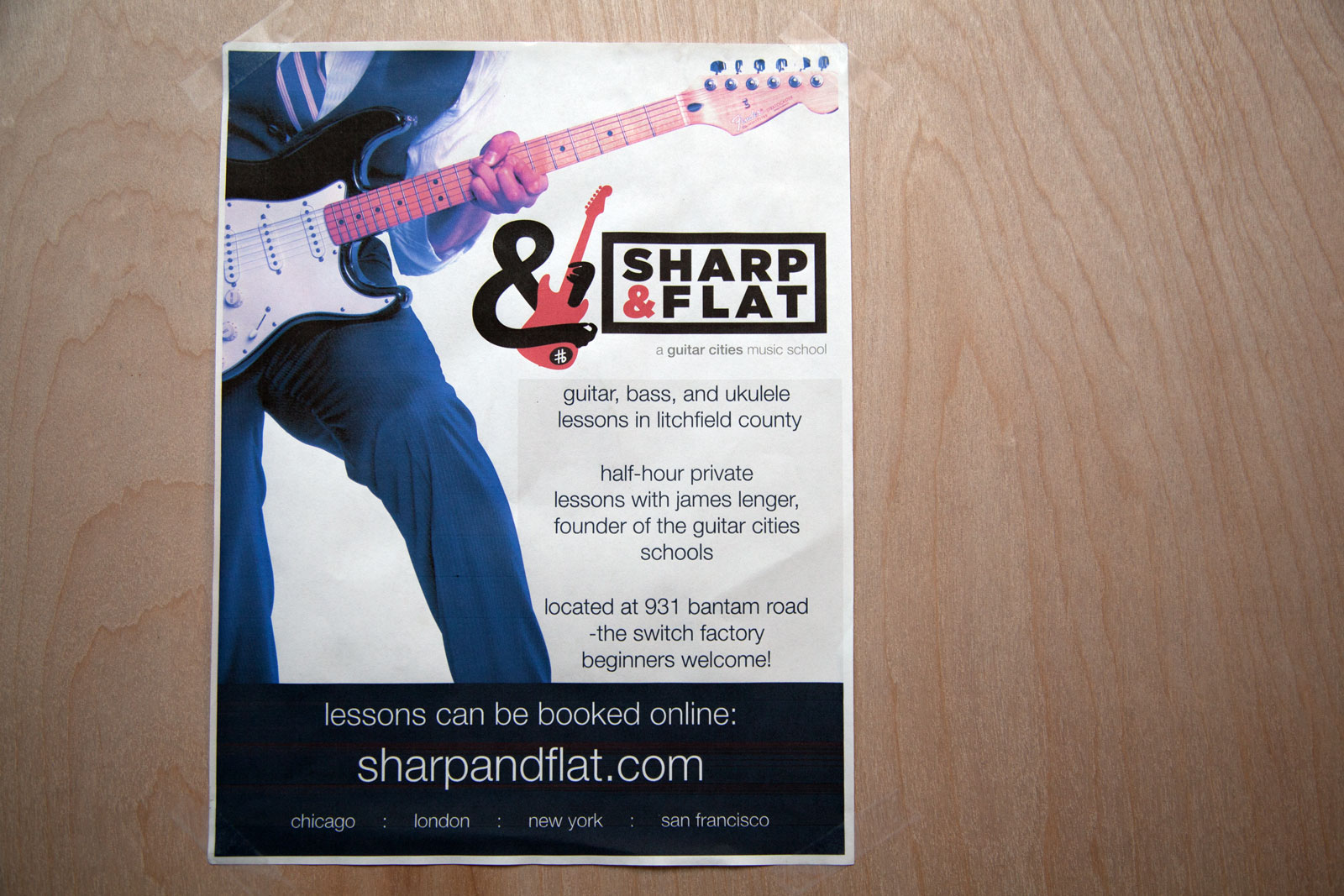 Do you write music too?
Yes, I had a number of years with a band. So after I graduated college I toured with a band for 5 or 6 years while I was teaching. That's where we played at the Olympics and we did a tour all over from California to New York. We were called The Green Room. At the Olympics, we played in front of about 20,000 people.
You have a popular Instagram account, @fifteensecondlessons, that's pretty cool!
It's a fun creative outlet for me. A student of mine in Chicago came up with the idea. I had the lighting and studio already. We just shot another 30 or so videos last week.
What brought you to this area?
My girlfriend. It was a number of things. I'd been living in Chicago for 10 years. I was born on a farm. I lived in a small community near a lake, Lake Michigan. I missed the comfort of being out of the city.
Thanks for the lesson Jim!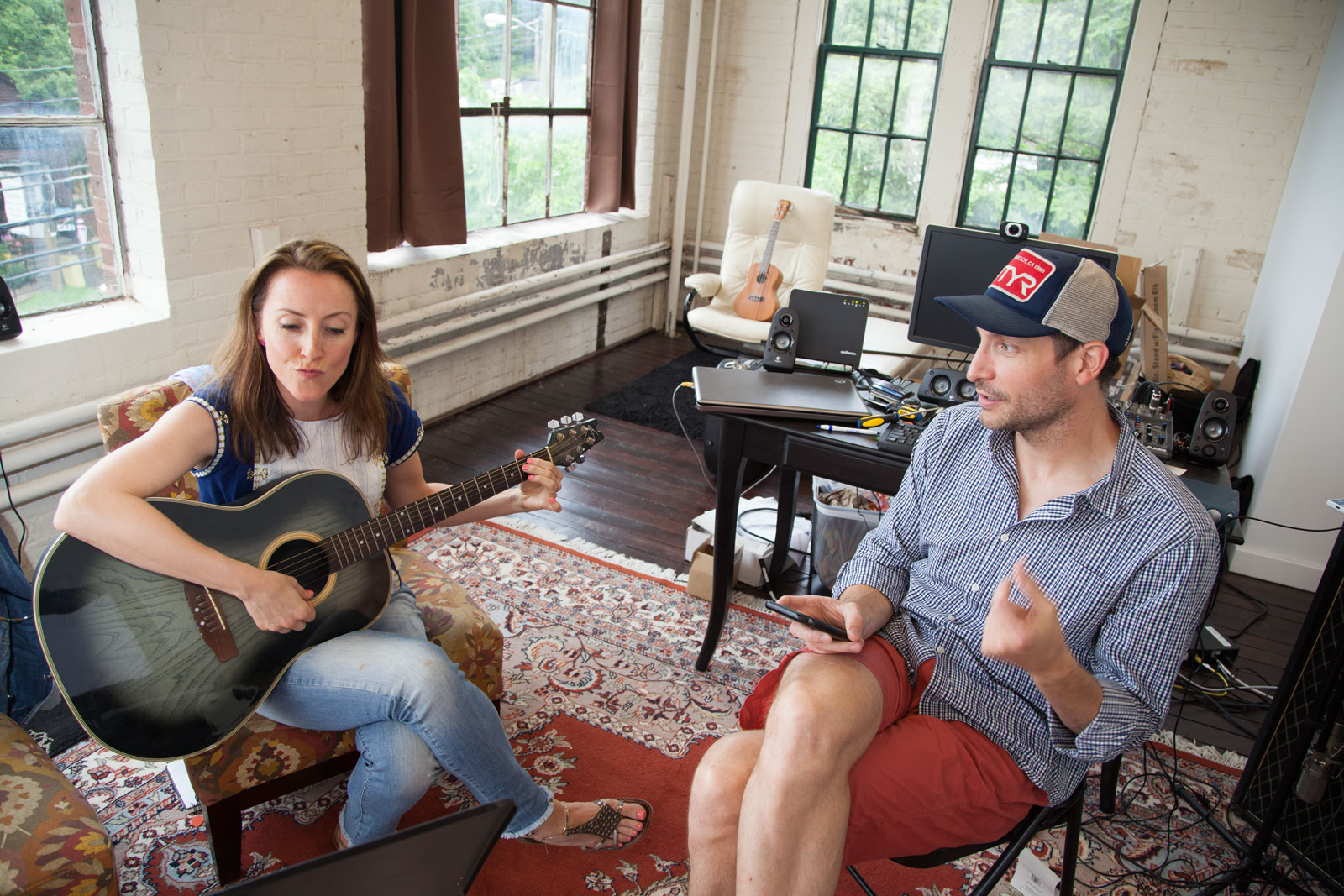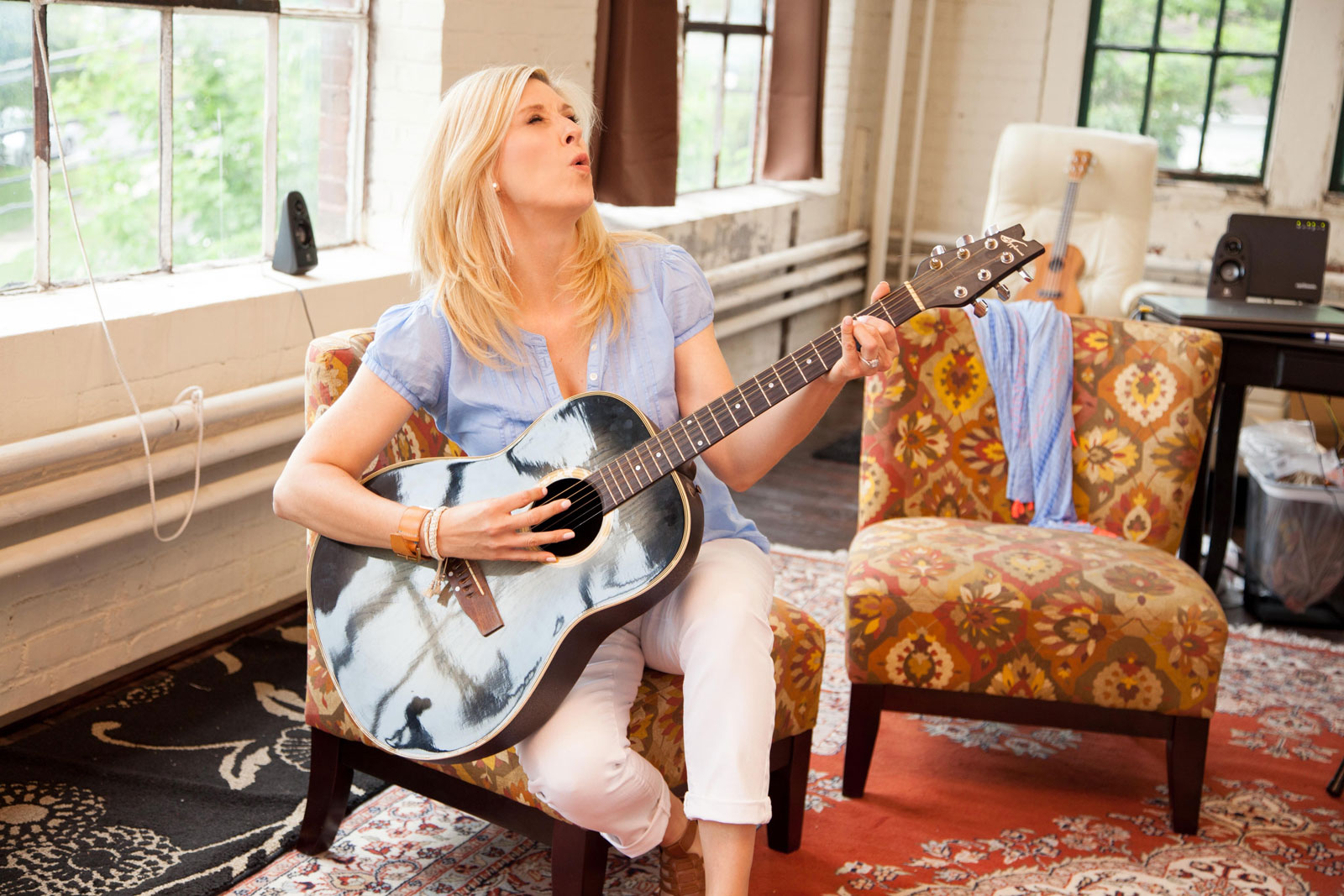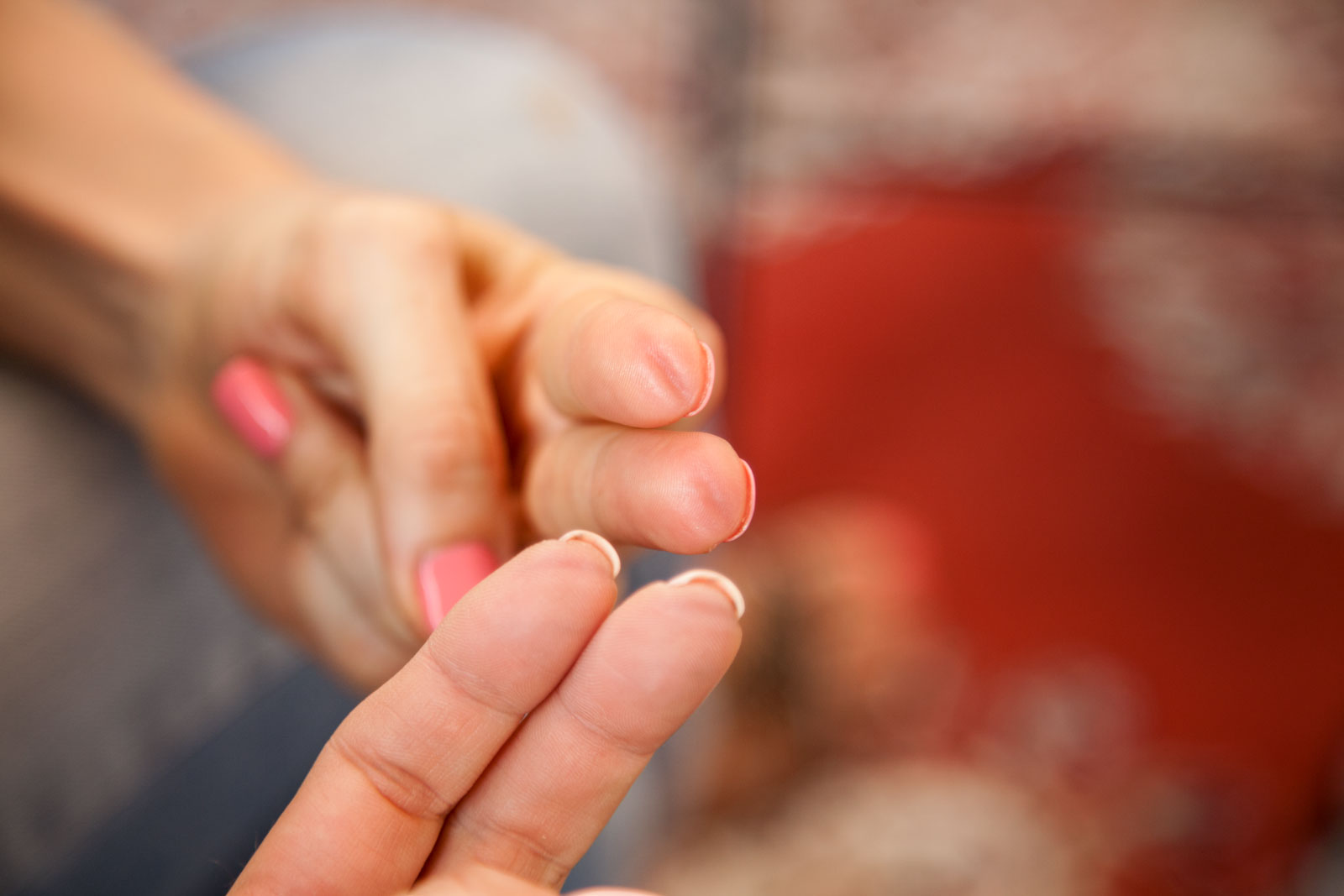 Calloused fingers!
---
931 Bantam Road, on the 3rd floor.
Pics: Lora Words: Bev
Video: Lora and Bev's iPhones. Editor – Mike Downie